United World Wrestling and Partners Host "Wrestling 4 All Open Day" in South Africa
Friday, November 30, 2018 - 12:51 By United World Wrestling Press
CORSIER-SUR-VEVEY (November 30) -- United World Wrestling, in partnership with Office of the High Commissioner for Human Rights (OHCHR) and coordination by the South African Wrestling Federation, is hosting a "Wrestling 4 All Open Day" December 1st in Randburg South Africa.
The event has been coordinated in recognition of the 70th Anniversary of the Universal Declaration of Human Rights.
"We are happy to be partnered with the [OHCHR] for this event," said United World Wrestling president Nenad Lalovic. "Our goal is to grow the sport of wrestling and show it's unique power to bring people together through sport. We believe that wrestling can be physical fitness and fun for all ages, but also allow for better dialogue among those who have disagreements."
The "Wrestling 4 All Open Day" is an opportunity for kids, youth and adults in the area to participate in a variety of wrestling-related events. In addition to an Olympic style wrestling tournament there will be beach wrestling and fitness activities. There day will also feature United World Wrestling's "Wrestle4Fun" program run by human rights champion Mpho MADI (RSA). Children up to 13 years of age are eligible to participate in the games session.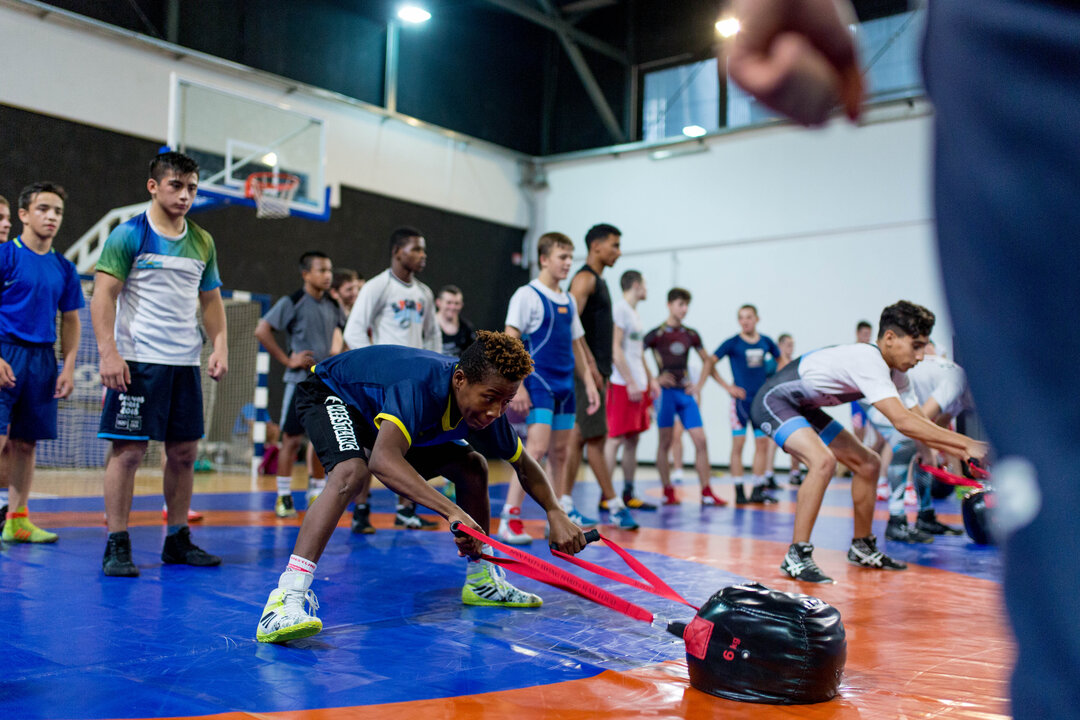 Athletes learning more about wrestling-specific conditioning and training earlier this year in Croatia (Photo: Max Rose Fyne)
Coaches and athletes interested in high-level fitness certifications will also have the chance to participate in the day's events. United World Wrestling global supplier Suples Wrestling, led by founder Ivan Ivanov, will host a two-day certification camp allowing attendees to learn more about how to utilize equipment for wrestling-based training.
The South African Wrestling Federation, with the support of its National Olympic Committee, is hosting an Olympic Solidarity UWW Level 1 coaches course and the Introduction to Refereeing simultaneously at the event.
A #standup4humanrights exhibition will also be on site, allowing visitors to learn more about the struggle for human rights and the 70th anniversary of the Universal Declaration of Human Rights.
The "Wrestling 4 All Open Day" will be held December 1 at the Danie Van Zyl Rec Center in Newlands, Randburg South Africa.