Susaki, Larroque Headline Trnava World C'ships
Thursday, September 13, 2018 - 13:52 By Eric Olanowski
TRNAVA, Slovakia (September 13) - Yui SUSAKI (JPN), the reigning 48kg senior-level world champion, will head to Trnava, Slovakia for her first-ever junior-level competition before putting her Paris World title on the line at the Budapest World Championships. 
Susaki, Japan's 19-year-old superstar won three straight Cadet World Championships before heading to Paris last year to claim her first senior-level World gold medal. 
The Junior World Championships will be Susaki's second individual international tournament of the year after she suffered a devastating 10-0 loss to Asian Championship/ Asian Games representative, Yuki IRIE (JPN) at Japan's Emperor's Cup. That loss ultimately kept Susaki off of Japan's continental championship teams. 
To make up for the Asian Championships and Asian Games absence, the Waseda University freshman traveled to Klippan, Sweden to wrestle in the first Ranking Series Event of the year, the Klippan Lady Open.
At the Klippan Lady Open, Susaki defeated current World No. 2, Mariya STADNIK (AZE), 2-2 in the gold-medal bout. She handed Stadnik her only defeat of the season. In 2018, Stadnik is 12-1, with 12 technical superiority victories while outscoring her opponents 128-5, and has gold medals at the Poland Open and the European Championships. 
Fast forward to July, Susaki avenged her loss to Irie, rallying from a four-point deficit with 30-seconds left to win the special wrestle-off, 6-4, ultimately making Japan's Budapest World Team for the second straight year. 
If Susaki, the clear favorite at 50kg was to make the finals, she'd wrestle on Thursday night for the gold medal.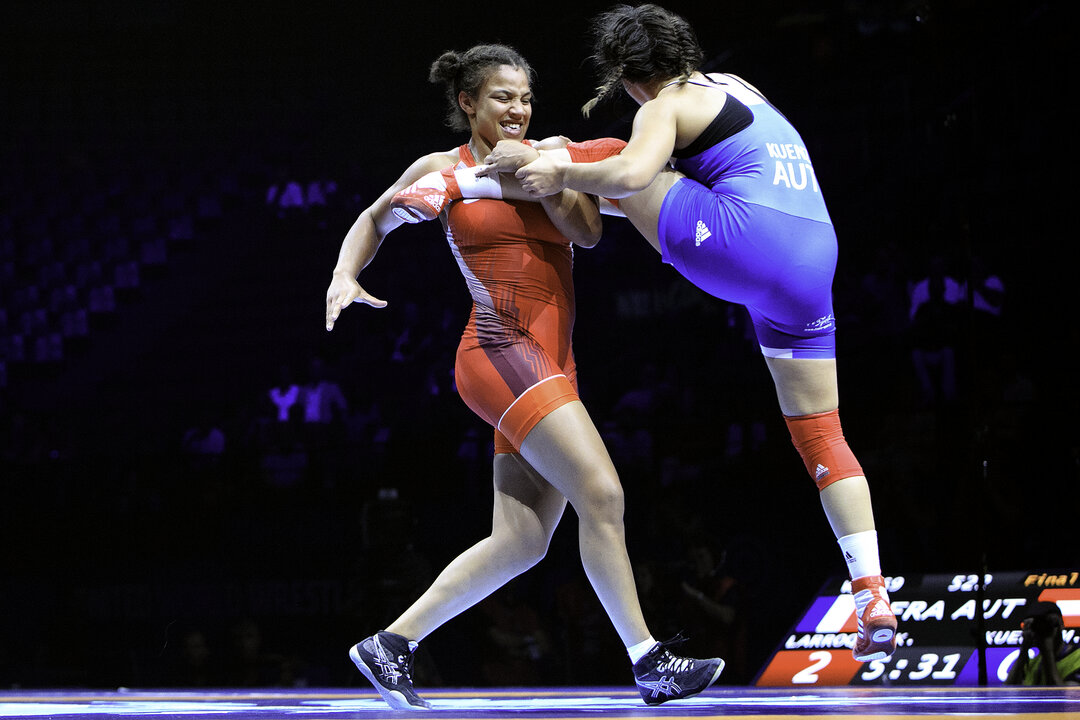 Koumba LARROQUE (FRA) looks to finish a single-leg in the bronze medal bout of the Paris World Championships. (Photo by Martin Gabor) 
Another superstar that'll be in attendance will be France's Koumba LARROQUE. 
Since 2015, Larroque has reached the top of the podium at the Cadet World Championships, Junior World Championships, and U23 World Championships. 
In addition, Larroque bumped up to the senior-level in her home country a season ago and captured a bronze medal at the Paris World Championships. 
Larroque is entered at 72kg and will compete on Thursday, with the potential to make Friday nights finals. 
Reigning Tampere champions Sae NANJO (JPN) and Khanum VELIEVA (RUS) also make their return to the Junior World Championships with hopes of winning back-to-back gold medals.
Nanjo is entered at 59kg, while Velieva is registered at 68kg.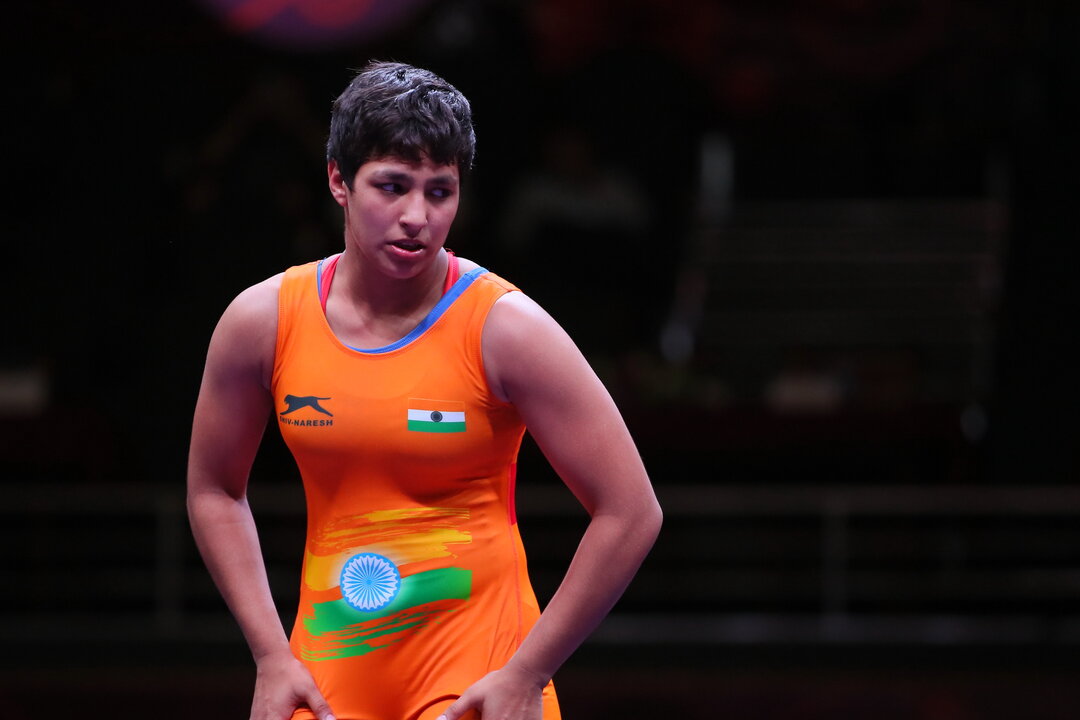 Cadet World champion, Anshu ANSHU (IND) will wrestle at 62kg. (Photo by Martin Gabor) 
Other World Medalists in Action 
50kg 
Stefania PRICEPUTU (ROU)  - Junior World bronze 

53kg
Zeynep YETGIL (TUR) - Junior World bronze
57kg  
Viktoriia VAULINA (RUS) - Junior World bronze
59kg
Anastasia NICHITA (MDA)  - Junior World runner-up 
Erika BOGNAR (GER) – Cadet World bronze 
62kg 
Yuliana YANEVA (BUL) – Junior World runner-up 
Anshu ANSHU (IND)  - Cadet World champion 
Krystsina SAZYKINA (BLR) – Cadet World bronze 
65kg 
Alena TIMOFEEVA (RUS) – Cadet World runner-up
Wiktoria CHOLUJ   (POL) – Cadet World bronze
72kg 
Hui Tsz CHANG (TPE) - Junior World bronze
76kg 
Yasuha MATSUYUKI (JPN) -  Junior World runner-up
Denise MAKOTA STROEM (SWE)  – Junior World bronze 
Bernadett NAGY (HUN) – Cadet World bronze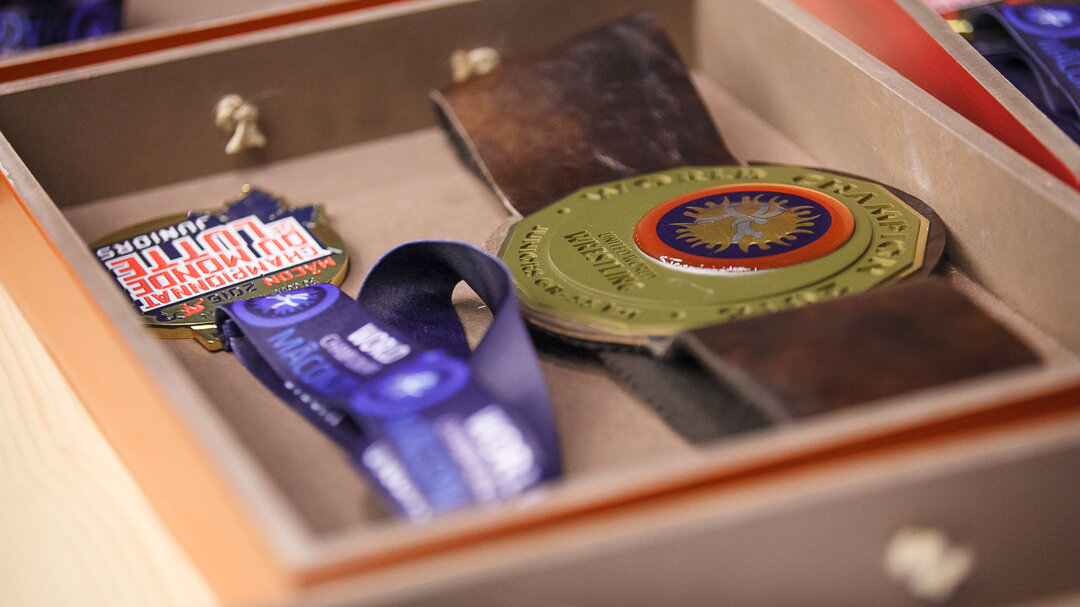 In addition to their gold medal, each World Champion will receive a belt. (Photo by Justin Hoch)
SCHEDULE 
Wednesday 
10:30 - Qualification rounds WW – 50-55-59-68-76kg
17:15 - Semifinal WW – 50-55-59-68-76kg
Thursday 
10:30 - Qualification rounds WW – 53-57-62-65-72kg
10:30 - Repechage WW – 50-55-59-68-76kg
17:15 - Semifinal WW – 53-57-62-65-72kg
18:00 - Finals WW – 50-55-59-68-76kg
Friday 
10:30 - Repechage WW – 53-57-62-65-72kg
18:00 - Finals WW – 53-57-62-65-72kg