Sadulaev Serves Russia Sixth Gold to Close out #KaspEuro2018 C'Ships
Sunday, May 6, 2018 - 17:31 By Eric Olanowski
KASPIISK, Russia (May 6) – For the second day in a row, the Russian national anthem played a trio of times in Dagestan, Russia as the host nation closed out the 2018 European Championships with six of a possible ten gold medals.

The chants of "Rashid" poured through the Palace of Sport and Youth as Abdulrashid SADULAEV (RUS) won the colossal match-up between Olympic champions, holding off Sharif SHARIFOV (AZE), 2-1 to win the 92kg European title. 

"My opponent was an Olympic champion. Not just a guy from the street...We train at the same gym, and we know each other's style of wrestling. That's why it was such a low scoring match." 

Sadulaev's, lone takedown in the opening period proved to be the difference as "The Tank" snagged his fourth European championship.
At 61kg, Gadzhimurad RASHIDOV (RUS), the Kaspiisk native seized his second European championship by nearly shutting out Beka LOMTADZE (GEO), 4-1. 

"I only live 1km away from The Palace of Sport and Youth, so if I lost, I was heading home on foot." 

Rashidov, the 2017 world finalist put the first point on the board after Lomtadze, the 2015 European Games runner-up was penalized for not scoring on the activity clock. The Russian followed that up with a takedown to end the opening period, leading 3-0. Rashidov, the two-time continental champion closed the match with step out to in the final period to win the match by three points. 

"I want to dedicate this win to my father. He sold everything he owned so I could wrestle, and he always supports me; whether I win or lose."
Artur NAIFONOV (RUS), 86kg European champion. (Photo by Max Rose-Fyne) 
Artur NAIFONOV (RUS), the 20-year-old Russian defeated Azerbaijani's 31-year-old Aleksandr GOSTIYEV (AZE), 1-1 on critiera after trading activity clock points in the 86kg finals. 

"Growing up, Gostiyev was a role model for me, as we're from the same Republic. I'm pleased to match the level of a wrestler who was once an example for me!"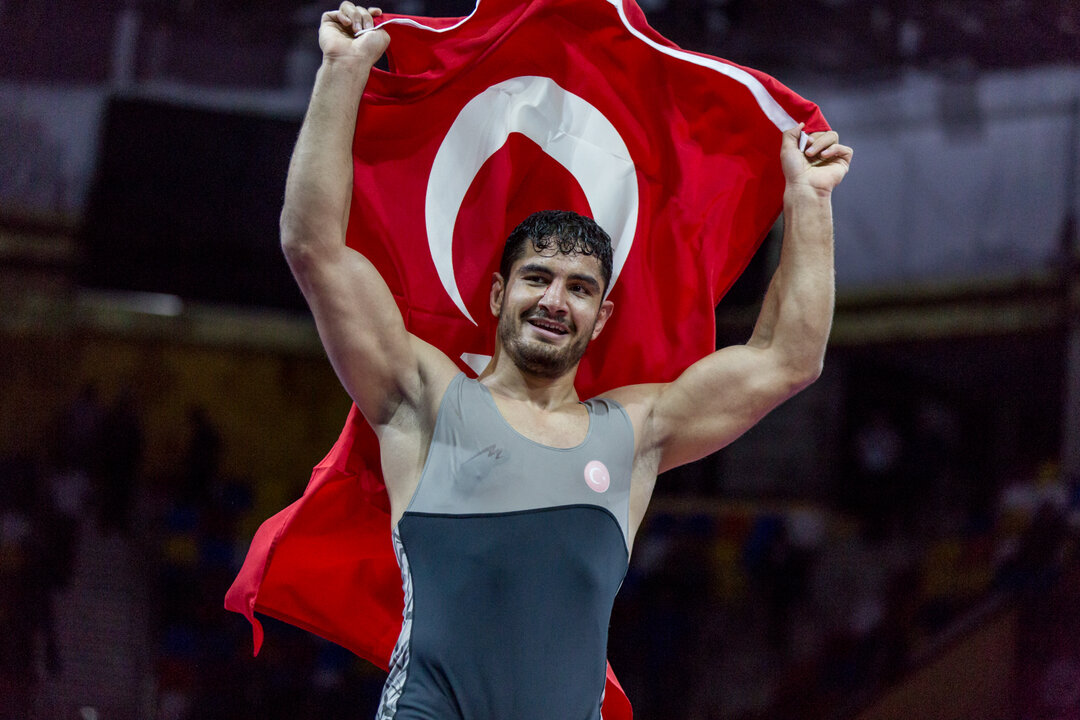 Five-time European champion, Taha AKGUL (TUR). (Photo by Max Rose-Fyne) 
Turkish wrestlers Taha AKGUL (TUR) and Soner DEMIRTAS (TUR) were the other two wrestlers who captured European golds. 
Akgul regained the 125kg top spot after avenging his loss from the 2017 World Championships to Geno PETRIASHVILI (GEO), 2-1. 
The Olympic champion added a fifth European title to his resume with two one-point exchanges to knock off the Georgian. 
Demirtas capped off his quest for back-to-back European gold medals by also using two one-point exchanges to defeated Zelimkhan KHADJIEV (FRA), 2-0. 
TEAM SCORES
GOLD - Russia  (204 points)
SILVER - Azerbaijan (160 points)
BRONZE- Turkey (125 points)
Fourth - Georgia (110 points)
Fifth - Belarus (80 points)
Sixth - Poland (59 points)
Seventh - Ukraine (51 points)
Eighth - France (38 points)
Ninth - Germany(36 points)
Tenth - Italy (36 points)
RESULTS

61kg
GOLD - Gadzhimurad RASHIDOV (RUS) df. Beka LOMTADZE (GEO), 4-1
BRONZE - Recep TOPAL (TUR) df. Niurhun SKRABIN (BLR), 6-6 
BRONZE - Ivan GUIDEA (ROU) df. Mirjalal HASAN ZADA (AZE), 3-1
74kg
GOLD -  Soner DEMIRTAS (TUR) df. Zelimkhan KHADJIEV (FRA), 2-0 
BRONZE - Frank CHAMIZO MARQUEZ (ITA) df.  Akhsarbek GULAEV (SVK), 10-0
BRONZE - Andrei KARPACH (BLR) df. Zaur EFENDIEV (SRB), 10-0
86kg
GOLD - Artur NAIFONOV (RUS) df. Aleksandr GOSTIYEV (AZE), 1-1 
BRONZE - Shamil KUDIIAMAGOMEDOV (ITA) vs. Fatih ERDIN (TUR), 8-4 
BRONZE - Sandro AMINASHVILI (GEO) df. Ahmed Ruslanovic DUDAROV (GER), 4-4 
92kg
GOLD - Abdulrashid SADULAEV (RUS) df. Sharif SHARIFOV (AZE), 2-1 
BRONZE - Kyrylo MIESHKOV (UKR) vs. Irakli MTSITURI (GEO), 6-6 
BRONZE - Serdar BOKE (TUR) vs. Nicolai CEBAN (MDA), 6-4 
125kg
GOLD - Taha AKGUL (TUR) df. Geno PETRIASHVILI (GEO), 2-1 
BRONZE - Jamaladdin MAGOMEDOV (AZE) vs. Muradin KUSHKHOV (RUS), 3-0 
BRONZE - Robert BARAN (POL) df. Johannes LUDESCHER (AUT), 6-1