Russians Outscore Day 6 Semifinal Opponents 34-0
Saturday, March 9, 2019 - 19:28 By Eric Olanowski
NOVI SAD, Serbia (March 9) – Abasgadzhi MAGOMEDOV, Nikita SUCHKOV, Arsen-Ali MUSALALIEV, and Batyrbek TCAKULOV shutout their semifinal opponents 36-0 and extended Russia's overall U23 European finalist streak to 18. Coming into the Day 6 semifinals, Russia had qualified 14 wrestlers for the finals, and the quartet of Day 7 finalists increased that total by four. 
Magomedov gave Russia their first Day 7 finalist after closing out his 61kg semifinals match with a trapped arm gut to defeat Azerbaijan's Asgar MAMMADALIYEV, 10-0. 
He'll take on Greece's Georgios PILIDIS (GRE) in Saturday's gold-medal match. Pilidis' semifinal match against Valentyn BLIASETSKYI (UKR) was short-lived after the Greek wrestler bulldozed the Ukrainian wrestler 10-0 in less than two minutes.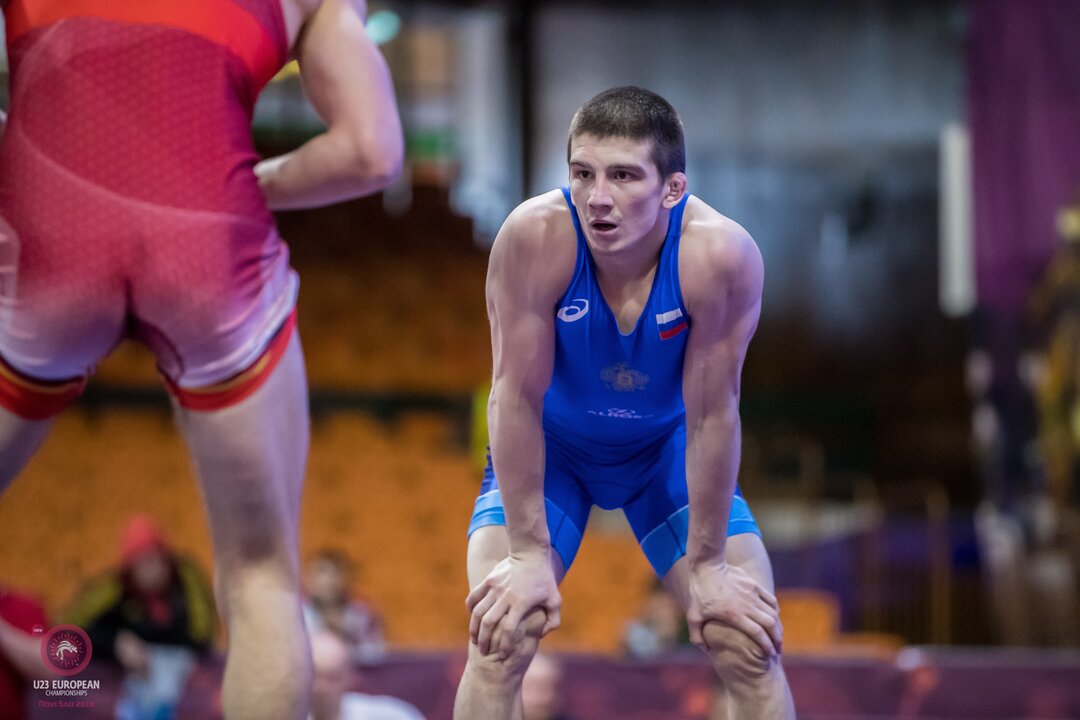 At 74kg, Russia's second Day 7 finalist Nikita Suchkov, who will take on Slovakia's Akhsarbek GULAEV for Sunday's gold, shutout Khachatur PAPIKYAN (ARM), 10-0. His finals opponent Gulaev edged Giorgi SULAVA (GEO), 9-8 after commanding the 9-0 lead. 
Like his two fellow countrymen finalist, Arsen-Ali Musalaiev also cruised in his semifinals bout. Musalaliev scored an 8-0 shutout win over Johannes Martin DEML (GER) and will meet Arif OZEN (TUR) in the 86kg finals. 
Batyrbek TCAKULOV (RUS) was the fourth Russian to blank his semifinals opponent when he picked up the 6-0 win over Bendeguz TOTH (HUN). He'll wrestle Ukraine's Vasyl SOVA (UKR) in the finals. The Ukrainian wrestler beat Shamil ZUBAIROV (AZE), 6-2 to reach the finals.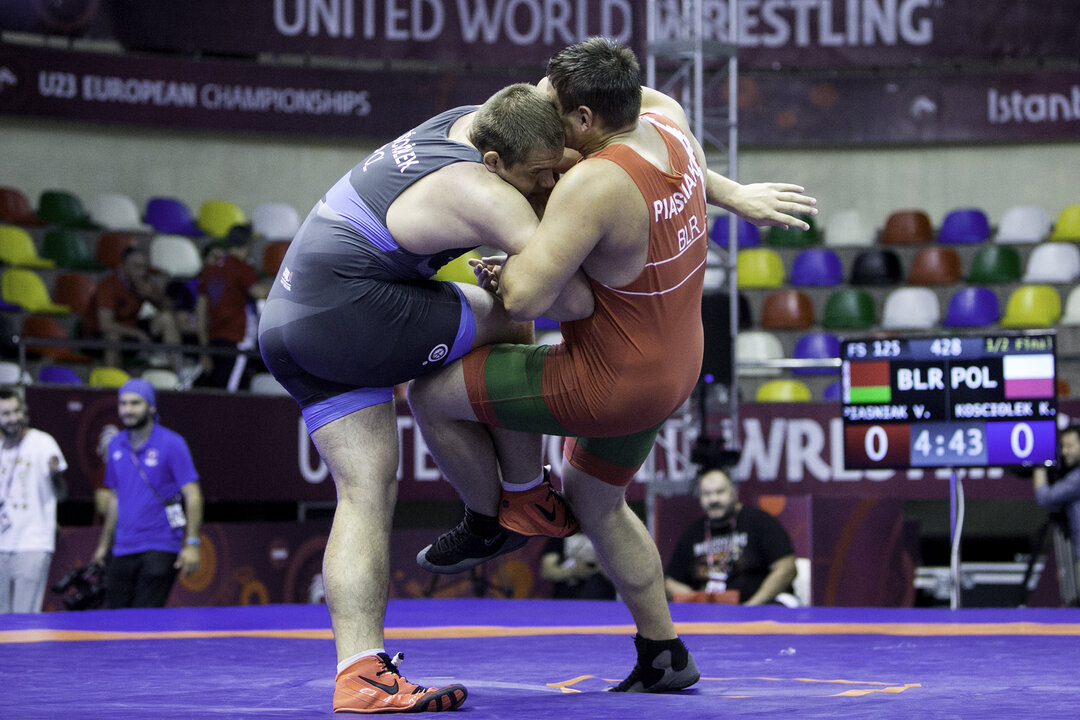 Vitali PIASNIAK (BLR) will wrestle Yurii IDZINSKYI (UKR) for the 125kg U23 European title. (Photo Sachiko Hotaka)
In the only weight that didn't feature a Russian wrestler, 125kg, Belarus' Vitali PIASNIAK and Yurii IDZINSKYI (UKR) picked up semifinal wins and will compete on Sunday night for the 125kg U23 European title.
The Day 7 finals begin on Sunday at 18:00 (local time).
RESULTS 
61kg 
GOLD - Georgios PILIDIS (GRE) vs. Abasgadzhi MAGOMEDOV (RUS)
SEMIFINAL - Georgios PILIDIS (GRE) df. Valentyn BLIASETSKYI (UKR), 10-0 
SEMIFINAL - Abasgadzhi MAGOMEDOV (RUS) df. Asgar MAMMADALIYEV (AZE), 10-0 
74kg 
GOLD - Nikita SUCHKOV (RUS) vs. Akhsarbek GULAEV (SVK)
SEMIFINAL - Nikita SUCHKOV (RUS) df. Khachatur PAPIKYAN (ARM), 10-0 
SEMIFINAL - Akhsarbek GULAEV (SVK) df. Giorgi SULAVA (GEO), 9-7
86kg 
GOLD - Arsen-Ali MUSALALIEV (RUS) vs. Arif OZEN (TUR)
SEMIFINAL - Arsen-Ali MUSALALIEV (RUS) df. Johannes Martin DEML (GER), 8-0 
SEMIFINAL - Arif OZEN (TUR) df.  Zaur BERADZE (GEO), 8-1
92kg 
GOLD - Vasyl SOVA (UKR) vs. Batyrbek TCAKULOV (RUS)
SEMIFINAL - Vasyl SOVA (UKR) df.  Shamil ZUBAIROV (AZE), 6-0
SEMIFINAL - Batyrbek TCAKULOV (RUS) df. Bendeguz TOTH (HUN), 6-0 
125kg
GOLD - Vitali PIASNIAK (BLR) vs. Yurii IDZINSKYI (UKR) 
SEMIFINAL - Vitali PIASNIAK (BLR) df. Samhan JABRAILOV (MDA), 3-1 
SEMIFINAL - Yurii IDZINSKYI (UKR) df. Georgii NOGAEV (SVK), 11-0