Russia Increases Overall U23 European Finalist Total to 14
Friday, March 8, 2019 - 18:01 By Eric Olanowski
NOVI SAD, Serbia (March 8) – The Russian Federation went four-for-four in freestyle semifinal matches on Friday night and increased their overall gold-medal bout participant total to 14. Russia inserted five into the Greco-Roman finals, five into the women's wrestling finals, and had four wrestlers qualify for the Day 6 freestyle finals. 
The four Russian freestyle finalists are Amirkhan GUVAZHOKOV, Razambek ZHAMALOV, Radik VALIEV, and Alievitch MUSAEV.
Russia's first finalist Amirkhan Guvazhokov will take on Andrii YATSENKO (UKR) in Saturday night's 57kg finals. 
Guvazhkov trailed 4-0 with under a minute left, but scored a pair of takedowns and gained the 4-4 criteria victory over Georgia's Roberti DINGASHVILI. 
His Ukranian finals opponent Yatsenko survived a 33 point shootout to Turkey's Saban KIZILTAS, 18-15. 
In the 70kg finals, Razambek Zhamalov will wrestle Poland's Patryk Krzysztof OLENCZYN. 
Zhamalov was up 8-0 in his semifinals bout against Vasile DIACON (MDA), when he halted a Moldovan throw attempt and closed out the match, 10-0.
His Polish finals opponenet, who led 3-0 after the first three minutes of action, started the second period of his semifinals match with a six-point exchange. He scored on a double leg, then transitioned into a pair of gut wrenches and commanded the 9-1 lead before using two slick headlocks to take the match, 15-2.
The third Russian Day 6 finalist was Radik Valiev, who will wrestle Turkey's Ramazan SARI for the 79kg gold medal. 
Valiev locked up a cradle and stuck Tariel GAPHRINDASHVILI (GEO) 35 seconds into their semifinal meeting, while the second 79kg finalist Sari controlled Adlan BATAIEV (UKR) and picked up the 5-0 shutout to lock up his finals spot. 
The last Russian to qualify for the Day 6 finals was Alievitch Musae, who will go toe-to-toe with Turkey's Ibrahim CIFTCI for the 97kg title. 
Musaev easily handled Dzianis KHRAMIANKOU (BLR), 11-0, in their semifinals meeting, while Ciftci upset defending U23 world champion Givi MATCHARASHVILI (GEO), 2-1.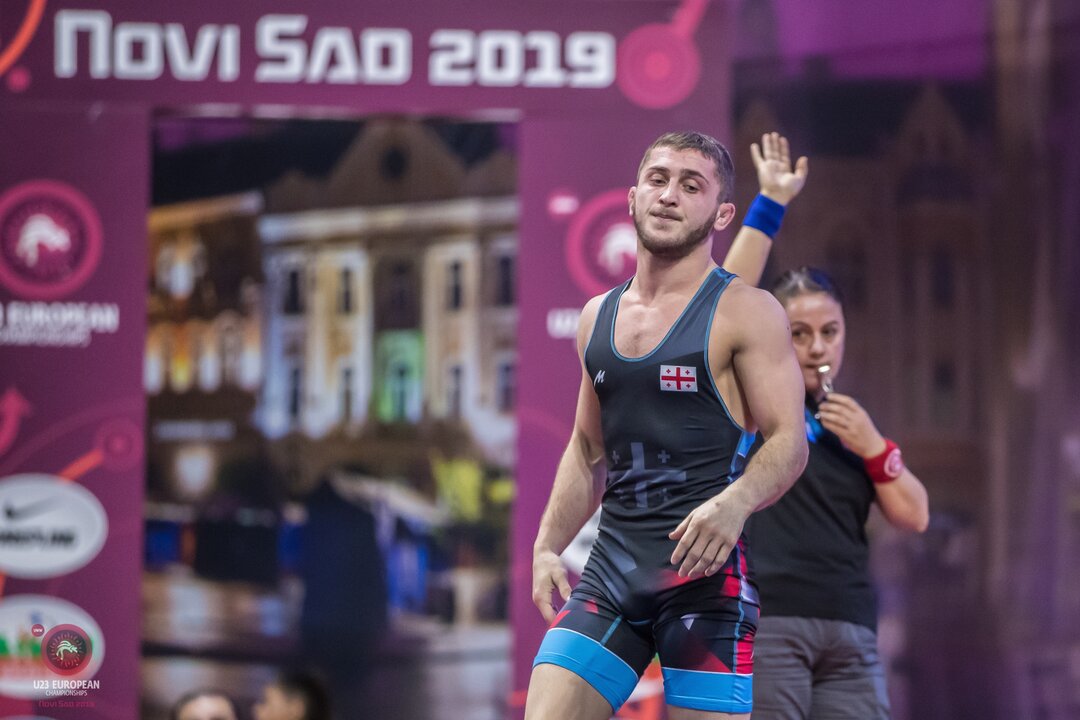 Edemi BOLKVADZE (GEO) will wrestle in the Day 6 65kg finals. (Photo: Sachiko Hotaka) 
Meanwhile, The lone finals matchup not featuring a Russian wrestler will happen at 65kg. 
Georgia's Edemi BOLKVADZE  will take on Armenia's Vazgen TEVANYAN for the 65kg gold medal. 
Bokvadze scored a pair of takedowns and gut wrenches and carried the 8-0 lead into the closing period of his semifinals match against Fati VEJSELI (MKD). The Georgian quickly stopped the Moldovan wrestlers shot and added two points, closing out the match with a 10-0 technical superiority victory. 
His finals opponent Tevanyan led Maxim SACULTAN (MDA) 1-1 and had the criteria advantage when he grabbed the outright lead with a step out, and ultimately won the bout, 2-1. 
The Day 6 freestyle finals begin on Saturday at 18:00 (local time).
RESULTS
57kg 
GOLD - Amirkhan GUVAZHOKOV (RUS) vs. Andrii YATSENKO (UKR) 
SEMIFINAL - Andrii YATSENKO (UKR) df. Saban KIZILTAS (TUR), 18-15
SEMIFINAL - Amirkhan GUVAZHOKOV (RUS) df. Roberti DINGASHVILI (GEO), 4-4 
65kg 
GOLD - Edemi BOLKVADZE (GEO) vs. Vazgen TEVANYAN (ARM)
SEMIFINAL - Vazgen TEVANYAN (ARM) df. Maxim SACULTAN (MDA), 2-1 
SEMIFINAL - Edemi BOLKVADZE (GEO) df. Fati VEJSELI (MKD), 10-0 
70kg
GOLD - Razambek ZHAMALOV (RUS) vs. Patryk OLENCZYN (POL)
SEMIFINAL - Razambek ZHAMALOV (RUS) df. Vasile DIACON (MDA), 10-0 
SEMIFINAL - Patryk Krzysztof OLENCZYN (POL) df. Daniel CHOMANIC (SVK), 15-2
79kg 
GOLD - Radik VALIEV (RUS) vs. Ramazan Ishak SARI (TUR)}
SEMIFINAL - Radik VALIEV (RUS) df. Tariel GAPHRINDASHVILI (GEO), via fall. 
SEMIFINAL - Ramazan Ishak SARI (TUR) df. Adlan BATAIEV (UKR), 5-0 
97kg
GOLD -  Shamil Alievitch MUSAEV (RUS) vs. Ibrahim CIFTCI (TUR)
SEMIFINAL - Shamil Alievitch MUSAEV (RUS) df. Dzianis KHRAMIANKOU (BLR), 11-0 
SEMIFINAL - Ibrahim CIFTCI (TUR) df. Givi MATCHARASHVILI (GEO), 2-1