Russia Edges Ukraine by 10 Points, Wins Women's Wrestling Team Title
Friday, June 7, 2019 - 18:32 By Eric Olanowski
PONTEVEDRA, Spain (June 7) – Mariia TIUMEREKOVA (RUS) and Mariia LACHUGINA (RUS) joined teammates Daria KHVOSTOVA (RUS) and Ekaterina VERBINA (RUS) as European champions and helped Russia (154 points) edge Ukraine (145 points) in the women's team race by 10 points. 
In the 53kg finals, Mariia Tiumerekova, one of the most decorated age-level wrestlers competing at this year's European Championships, outscored defending U23 and junior champion European Zeynep YETGIL (TUR), 4-1 in the second period to win the gold medal. 
Tiumerekova, the four-time age-level world medalist, trailed 1-0 after she gave up an inactivity point. Then, the Russian stopped a headlock attempt and picked up a point from a failed Turkish challenge to control the 3-1 lead late into the second period. She tacked on a step out point before the ending whistle and captured her second career European title and first since winning the 2017 cadet European title at 49kg.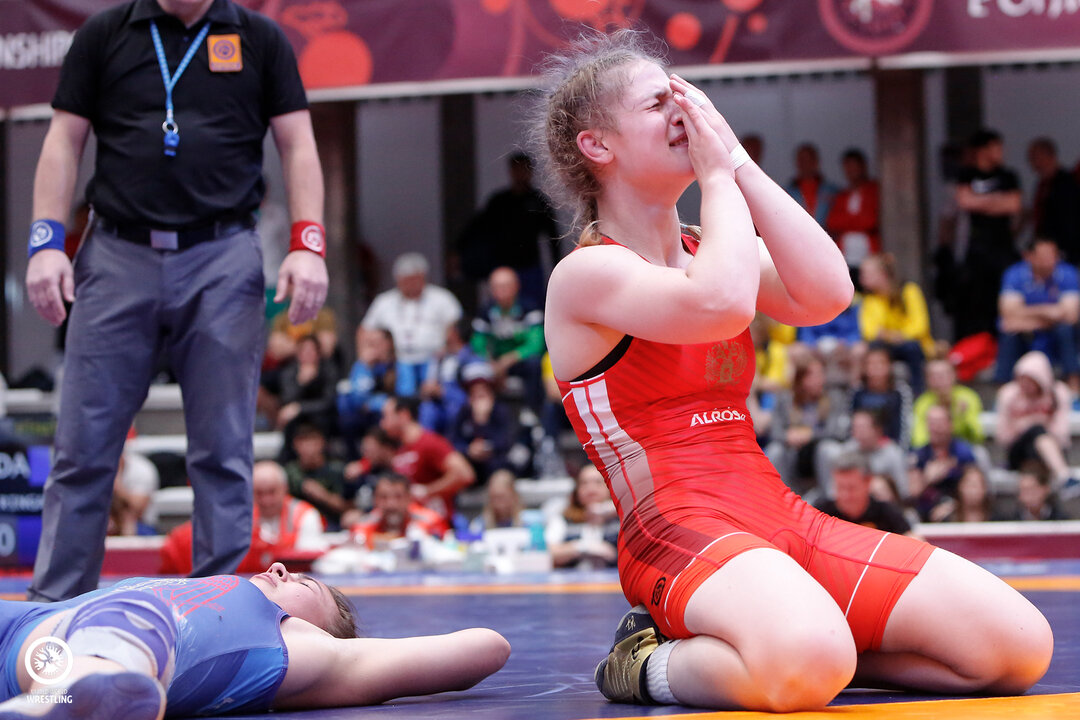 Mariia LACHUGINA (RUS) trailed 6-2 but pancaked Irina RINGACI (MDA) to her back for the fall and the 62kg title. (Photo: Gabor Martin) 
In the 62kg finals, Mariia Lachugina scored the bout's first takedown, but Irina RINGACI (MDA) quickly exploded to her feet and scored a takedown of her own to gain the 2-2 lead on criteria. In the second period, Lachugina got bulldozed over and surrendered a four-point double leg. Planted on her back, the Russian was able to sneak out of bounds and get a fresh start. When the action resumed, Lachugina returned the favor and pancaked Ringaci to her back, and picked up the fall, giving Russia their second gold medal of the day. 
This was Lachugina's second time wrestling in the continental finals, but an improvement on her runner-up finish from back in 2015. 

Alina AKOBIIA (UKR) captured the 57kg title after sticking Maryia HULIDA (BLR). (Photo: Gabor Martin)

Second place Ukraine, who finished with seven medalists, finally got their champion on Day 6 when Alina AKOBIIA (UKR) captured the 57kg title. 
In the finals, 2017 U23 world bronze medalist Alina Akobiia quickly dismantled Maryia HULIDA (BLR), picking up the fall after leading 8-0. Akobiia dominated the match with her front headlock, picking up a pair of takedowns against her Belarusian opponent. She also scored a four-point throw with a cross ankle pick which resulted in her picking up the fall with 45 seconds left in the first period. 
This was Akobiia's fourth appearance in the European finals but got back to her winning ways after dropping two consecutive continental gold-medal matches. 
Anastasiya ZIMIANKOVA (BLR) ended Maria NITU's (ROU) magical European run with a convincing 7-1 victory in the 72kg finals, locking up Belarus' third place team finish. Belarus also had a champion in Krystsina SAZYKINA (BLR), and two other medalists and finished with 126 points. 
Freestyle takes over tomorrow morning. Wrestling begins at 11:00 (local time) with the Day 6 finals starting at 18:00. All the action can be followed live on www.unitedworldwrestling.org. 
RESULTS 

GOLD – Russia (154 points)
SILVER – Ukraine (144 points)
BRONZE – Belarus (126 points)
Fourth – Hungary (105 points) 
Fifth – Poland (94 points) 

53kg 
GOLD - Mariia TIUMEREKOVA (RUS) df. Zeynep YETGIL (TUR), 4-2
BRONZE - Emma Jonna Denise MALMGREN (SWE) df. Tetiana PROFATILOVA (UKR), via fall 
BRONZE - Andreea ANA (ROU) df. Emma Solange Irène LUTTENAUER (FRA), 6-0 
57kg 
GOLD - Alina AKOBIIA (UKR) df. Maryia HULIDA (BLR), via fall
BRONZE - Tamara DOLLAK (HUN) df. Anastasiia SIDELNIKOVA (RUS), via fall 
BRONZE - Maria Victoria BAEZ DILONE (ESP) df. Gaëlle Paquita Maravilla RUIZ (FRA), 7-2 
62kg 
GOLD - Mariia LACHUGINA (RUS) df. Irina RINGACI (MDA), via fall 
BRONZE - Kateryna ZELENYKH (UKR) df. Zhala ALIYEVA (AZE), 9-6
BRONZE - Ameline DOUARRE (FRA) df. Ramina MAMEDOVA (LAT), via fall 
65kg 
GOLD - Wiktoria CHOLUJ (POL) df. Anastasiia LAVRENCHUK (UKR), 5-3 
BRONZE - Amina Roxana CAPEZAN (ROU) df. Viktoria VESSO (EST), 8-8 
BRONZE - Noémi SZABADOS (HUN) df. Elena ESPOSITO (ITA), 3-2 
72kg 
GOLD - Anastasiya ZIMIANKOVA (BLR) df. Maria NITU (ROU), 7-1
BRONZE - Evgeniia ZAKHARCHENKO (RUS)  df. Ariadna IBORRA QUINONES (ESP), 10-0 
BRONZE - Kamila Czeslawa KULWICKA (POL) df. Anastasiya ALPYEYEVA (UKR), 11-0