Rong Wins Second Ranking Series Gold Medal
Sunday, September 9, 2018 - 16:55 By Eric Olanowski
WARSAW, Poland (September 9) - China's RONG Ningning continued her 2018 hot streak and remained undefeated on the year,  winning the 57kg gold medal at the final women's Ranking Series event of the year, the Poland Open. 
Rong's win in Warsaw was her second Ranking Series gold medal of the year. She also won the China Open. In addition to her two Ranking Series championships, Rong claimed gold medals at the Ivan Yargin and Asian Championships, while also going undefeated at the World Cup. 
In the opening round, the Chinese wrestler kicked off the Poland Open by shutting out Mehlika OZTURK (TUR), 4-0. 
Rong, the No. 5 ranked wrestler in the world (at 59kg) followed her opening round win with a 14-3 quarterfinals thumping of current World No. 1 and European runner-up, Irina OLOGONOVA (RUS). 
In the semifinals, Rong narrowly squeaked out the win, defeating two-time cadet world champion, Yumeka TANABE (JPN), 6-4.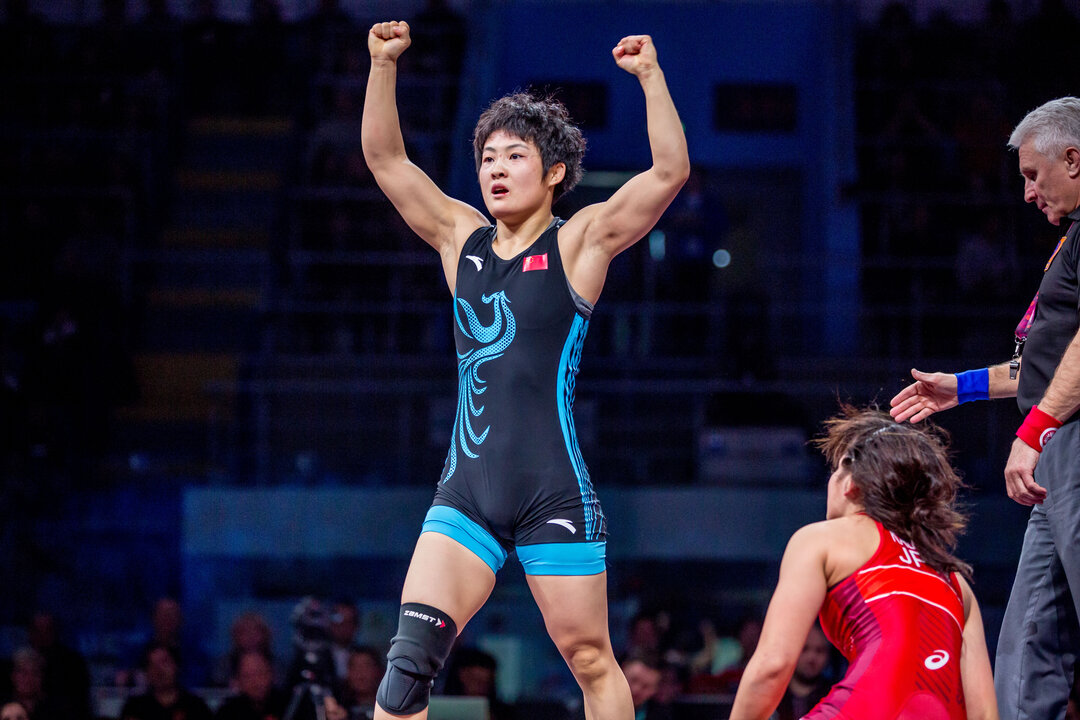 RONG Ningning (CHN) has won two Ranking Series events this year. (Photo by Max Rose-Fyne) 
The 57kg final was a top-ten match-up that pitted Rong against Norway's ninth-ranked Grace BULLEN. 
In the opening minute of the first period, the Asian champion found herself in an early 4-0 hole after Bullen tossed her to back. She fought off her back and gained a two-point exposure, closing Bullen 's first period lead to 4-2. 
Rong opened up the second period with a monstrous high-crotch, coming up to her feet and doubling off for four points and controlled the 6-4 lead. 
After a pair of leg-laces, the Chinese wrestler gained the 10-4 advantage before catching Bullen on her back, picking up the second-period fall to claim her fourth individual gold medal of the year. 
Rong, who competed at 59kg for half of the year will most likely represent China at 57kg at the 2018 World Championships in Budapest, Hungary. 
RESULTS 
Women's Wrestling 
53kg
GOLD - Nanami IRIE (JPN) df. Katarzyna KRAWCZYK (POL), 2-2 
BRONZE - Nina HEMMER (GER) df. Diana Mary Helen WEICKER (CAN), 10 - 6
BRONZE - Maria PREVOLARAKI (GRE) df. Sarah Ann HILDEBRANDT (USA), 12-10
57kg 
GOLD - Ningning RONG (CHN) df. Grace Jacob BULLEN (NOR), via fall 
BRONZE - Sandra PARUSZEWSKI (GER) df. Bilyana Zhivkova DUDOVA (BUL), 6-3 
BRONZE - Yumeka TANABE (JPN) df. Irina OLOGONOVA (RUS), 4-0 
62kg 
GOLD - Yuliia TKACH OSTAPCHUK (UKR) df. Malin Johanna MATTSSON (SWE), 2-1 
BRONZE - Luisa Helga Gerda NIEMESCH (GER) df. Sara DA COL (ITA), 10-0 
BRONZE - Na LU (CHN) df. Lais NUNES DE OLIVEIRA (BRA), 12-1 
68kg 
GOLD - Alla CHERKASOVA (UKR) df. Dalma CANEVA (ITA), 16-5
BRONZE - Jiao WANG (CHN) df. Anna Jenny Eva Maria FRANSSON (SWE), 4-4 
BRONZE - Tamyra Mariama MENSAH (USA) df. Alla BELINSKA (UKR), 5-0 
76kg 
GOLD - Erica WIEBE (CAN) df. Aline FOCKEN (GER), 7-0 
BRONZE - Paliha PALIHA (CHN) df. Anastasiia SHUSTOVA (UKR), 6-0
BRONZE - Vasilisa MARZALIUK (BLR) df. Yasemin ADAR (TUR), 6-5