Pair of Indian World Medalists Fall Short of Finals on Last Day in New Delhi
Sunday, February 23, 2020 - 10:36 By Ken Marantz
NEW DELHI (Feb. 23)—It was a tough day for a pair of Indian world medalists, as neither Rahul AWARE (IND) nor Deepak PUNIA (IND) advanced to the gold-medal matches on the final day of the Asian Championships on Sunday.
Indian hopes in the five freestyle finals in the night session at New Dehli's K.D. Jahrav Wrestling Stadium will lie in Jitender JITENDER (IND), who earned a meeting with defending champion Daniyar KAISANOV (KAZ) for the 74kg title.
Kazakhstan, Japan and Iran all put two wrestlers into the finals, while Tajikistan, Kyrgyzstan, India and Mongolia have one each. 
Aware, a bronze medalist at last year's World Championships in Nur-Sultan, was upended in the semifinals by world U-23 champion Ulubek ZHOLDOSHBEKOV (KGZ), who sewed up a 5-3 win with a takedown with 21 seconds left.
In the final, Zholdoshbekov, who won Asian bronzes in 2016 and 2018, will face Muhammad IKROMOV (TJK), a 4-4 winner on criteria over Ryuto SAKAKI (JPN). Ikromov will attempt to end Tajikistan's 17-year quest for a second Asian gold medalist.
Against Zholdoshbekov, Aware trailed 2-0 when he challenged an exposure that was not called. He lost that challenge, but came back with a takedown that cut the deficit to 3-2. Except that he got the scores mixed up. 
"I thought I was leading 3-2, but it was him that was leading 3-2," Aware said. "In my challenge, I wanted the points for my second action, but in the replay, they saw only the first action and finished. I was disturbed and wanted them to see the second action and I lost my focus. 
"I heard my name from the stands and I looked up to see who it was and then at the scoreboard to see the score. I have never lost my focus like this before in a bout. "
Zholdoshbekov then put the nail in the coffin with a takedown, although he also gave up a late penalty point. 
Aware had to survive a scare in the quarterfinals against Jahongirmirza TUROBOV (UZB). Trailing 8-6 heading into the second period, Aware came back to take a 10-9 into the final seconds. Turobov got in deep on a tackle and, with Aware atop his back, tried everything to expose him to the mat. With Aware pirouetting on his head on the mat, time ran out. A lost challenge point made it an 11-9 victory.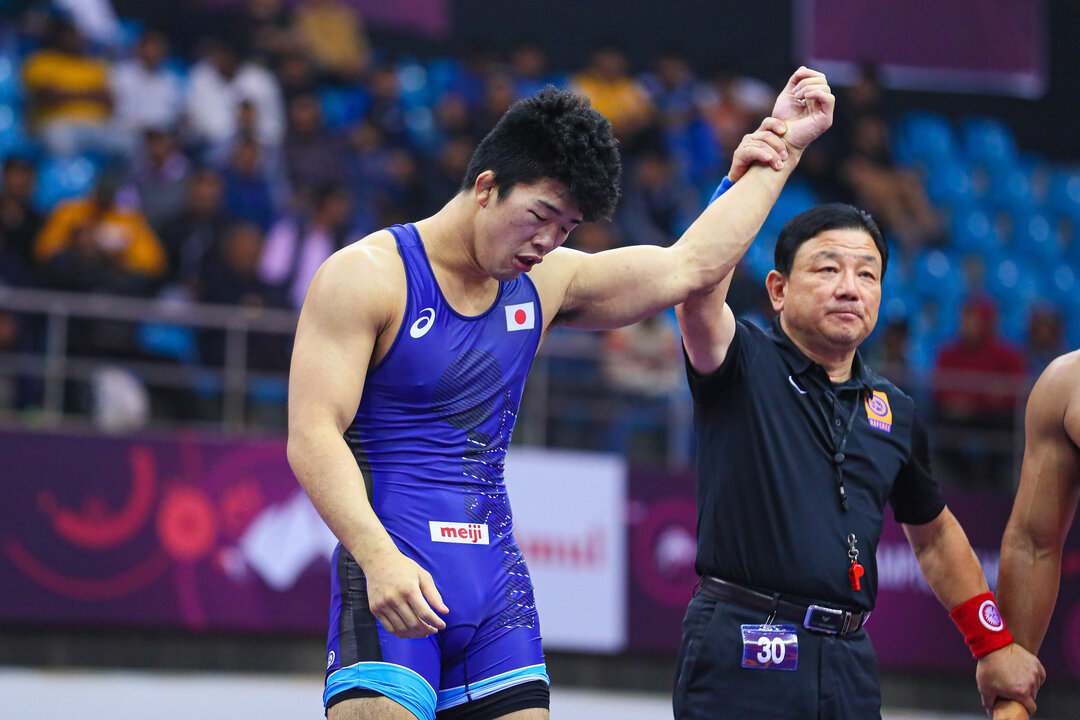 Shutaro YAMADA (JPN) defeated No. 3 Deepak PUNIA (IND) en route to the 86kg gold-medal match. (Photo: Kadir Caliskan)
Punia, coming off winning the world junior title and the world senior silver medal over a one-month span last year at 86kg, met his match in unheralded Shutaro YAMADA (JPN), who wrapped up a 4-1 victory with a takedown with just under a minute to go.
"I'm so happy," said Yamada, a sophomore at Yamanashi Gakuin University. "I knew that he wrestles like sumo or Greco-Roman. I watched many videos of him. My wrestling is similar. But more than techniques, it came down to a clash of wills."
On gaining the late takedown, Yamada said, "To be sure of victory, I thought to put priority on defending rather than scoring points. This is the home of the opponent, which could be a disadvantage for me."
Yamada appeared at both the world cadet and junior championships twice each, but never finished higher than fifth. Whether his first foray into an international senior event results in a gold or silver will depend on how he fares against Ahmad BAZRIGHALEH (IRI).
Bazrighaleh, the 2019 Asian U-23 champion, advanced with a 16-5 technical fall over Isa SHAPIEV (UZB).
Jitender made the 74kg final with a razor-thin 2-1 victory over Sumiyabazar ZANDANBUD (MGL), while Kaisanov swept aside Daichi TAKATANI (JPN), 9-4
"I never want to give up points, it doesn't matter how many I score," Jitender said. "If it's 2-1 or 10-1, I still win."
Most significantly, Jitender has clinched his first medal in five trips to the Asian Championships. "It cannot be a better platform to win my first medal, in front of the home crowd."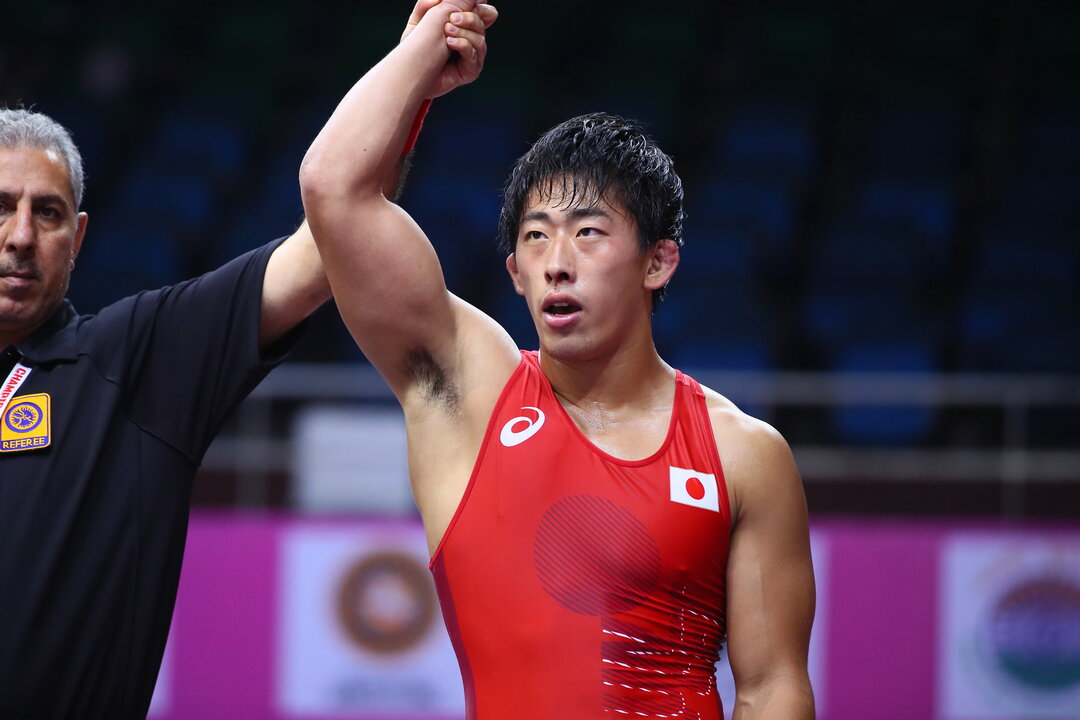 Takuma OTSU (JPN) will take on Mohammadjavad EBRAHIMIZIVLAEI (IRI) in the 92kg finals. (Photo: Sachiko Hotaka)
The fight for the 92kg title has come down to a clash between 2018 Asian champion Mohammadjavad EBRAHIMIZIVLAEI (IRI) and Takuma OTSU (JPN), the Asian junior silver medalist that year. 
Ebrahimizivlaei advanced with a 10-2 win over Ajiniyaz SAPARNIYAZOV (UZB), while Otsu dominated Tsogtgerel MUNKHBAATAR (MGL) to win by 11-1 technical fall.
The final match of the tournament, for the 125kg gold, will pit 2019 world U-23 bronze medalist Yusup BATIRMURZAEV (KAZ) against Khuderbulga DORJKHAND (MGL).
In the semifinals, Batirmurzaev made short work of Parviz HADIBASMANJ (IRI), locking up his arms and slamming him onto his back with a lateral drop for a fall in 28 seconds. Dorjkhand, a 2016 Asian bronze medalist, ousted NAM Koungjin (KOR) 8-0.
Day 6 Results
Freestyle
61kg (13 entries)
SEMIFINAL – Muhammad IKROMOV (TJK) df. Ryuto SAKAKI (JPN), 4-4
SEMIFINAL – Ulubek ZHOLDOSHBEKOV (KGZ) df. Rahul AWARE (IND), 5-3
74kg (12 entries)
SEMIFINAL – Daniyar KAISANOV (KAZ) df. Daichi TAKATANI (JPN), 9-4
SEMIFINAL – Jitender JITENDER (IND) df. Sumiyabazar ZANDANBUD (MGL), 2-1
86kg (9 entries)
SEMIFINAL – Ahmad BAZRIGHALEH (IRI) df. Isa SHAPIEV (UZB) by TF, 16-5, 5:24
SEMIFINAL – Shutaro YAMADA (JPN) df. Deepak PUNIA (IND), 4-1
92kg (8 entries)
SEMIFINAL – Takuma OTSU (JPN) df. Tsogtgerel MUNKHBAATAR (MGL) by TF, 11-1, 2:25
SEMIFINAL – Mohammadjavad EBRAHIMIZIVLAEI (IRI) df. Ajiniyaz SAPARNIYAZOV (UZB), 10-2
125kg (12 entries)
SEMIFINAL – Khuderbulga DORJKHAND (MGL) df. NAM Koungjin (KOR), 8-0
SEMIFINAL – Yusup BATIRMURZAEV (KAZ) df. Parviz HADIBASMANJ (IRI) by Fall, :28 (4-0)