Japanese Women One-Up Iran's Greco-Roman Squad, Win Seven Asian Junior Gold Medals
Friday, July 20, 2018 - 16:42 By Eric Olanowski
New DELHI, India (July 20) – Japan closed out women's wrestling at the 2018 Asian Junior Championships with eight finalists, winning seven gold medals and one-upping Iran's Greco-Roman squad who won six gold medals earlier this week. 
With their seven gold medals, Japan one-upped the Greco-Roman team champions, Iran. During the Greco-Roam portion of the tournament, nine Iranian wrestlers qualified for the gold-medal bout, but "only" six clutched a gold medal after it was all said and done.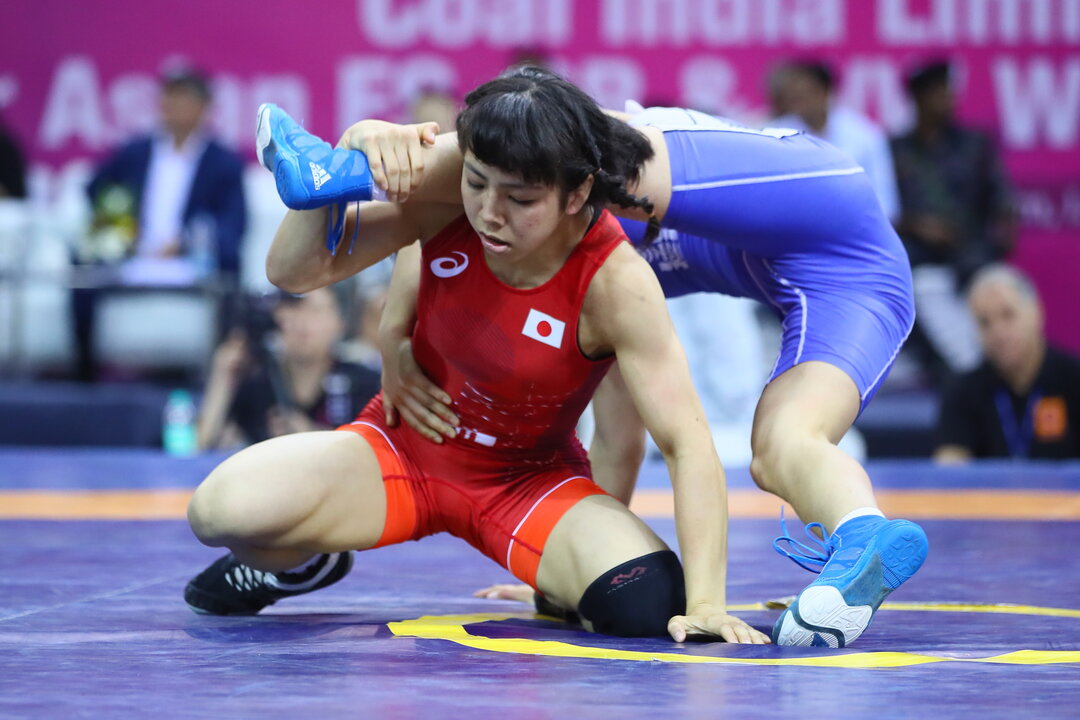 Umi IMAI (JPN) last year's Asian cadet champion followed that up with an Asian junior title this weekend. (Photo by Sachiko Hotaka)
Every Japanese wrestler who laced up their shoes today made the finals, bringing their tournament finalist total to eight wrestlers. Of the eight wrestlers to make the finals, seven departed the I.G. Sports Complex necklacing a gold medal. Japan followed up their two opening day gold medal technical superiority victories by wrapping up an additional three finals match-ups by greater than ten points. 
Their seven women's wrestling gold medals is an extreme improvement from last year's Asian Junior Championships in Taichung, Taipei where all four Japanese wrestlers who made the finals finished with a silver medal. 
Of those four finals losses, two of them came against Chinese opponents. This year, Japan turned the ship around, outscoring Chinese wrestlers 37-2 in their four head-to-head final match-ups. 
China, who had five wrestlers fall in the finals finished in second place with 168 points. India, the host nation, claimed five individual medals and hoisted the third-place team trophy. 
Freestyle action kicks off tomorrow morning with the championships session beginning at 6:00 PM local time. 
RESULTS
Team Scores 
GOLD – Japan (213 points)
SILVER – China (168 points)
BRONZE – India (135 points)
Fourth – Kazakhstan (123 points)
Fifth – Mongolia (113 points) 
53kg 
GOLD -  Umi IMAI (JPN) df. Yuhong ZHONG (CHN), 10-0 
BRONZE -Swati Sanjay SHINDE (IND) df. Duangnapa BOONYASU (THA), 10-0 
BRONZE -  Enkhtsetseg BATBAATAR (MGL) df. Ellada MAKHYADDINOVA (KAZ), 11-0 
57kg 
GOLD  Akie HANAI (JPN) df. Mansi MANSI (IND), 10-0 
BRONZE -  Zhanerke ASSANOVA (KAZ) df. Nadia NARIN (THA), 8-2
BRONZE -  Qi ZHANG (CHN) df. Gulnora TOSHPULATOVA (UZB), 10-0 
62kg
GOLD -  Irina KUZNETSOVA (KAZ) df. Rin KONDO (JPN), via fall 
BRONZE - Seeun CHOI (KOR) df. Nigora BAKIROVA (UZB), 3-1 
BRONZE -  Xinyuan SUN (CHN) df. Anshu ANSHU (IND), 4-2 
65kg
GOLD -  Naomi RUIKE (JPN) df. Yaru WU (CHN), 5-2 
BRONZE -  Delgermaa ENKHSAIKHAN (MGL) df. Tina TINA (IND), 8-1 
BRONZE -  Bakhtigul BALTANIYAZOVA (UZB) df. Hyerim YUN (KOR), 10-0 
72kg
GOLD -  Mei SHINDO (JPN) df. Khulan TSERMAA (MGL), 10-0 
BRONZE - Hui Tsz CHANG (TPE) df. Sonika HOODA (IND), 5-3 
BRONZE -  Gulnaz ZHAPPAROVA (KAZ) df. Jaeeun YOO (KOR), 2-0