Japanese Women Close Out Junior Worlds with Eight Golds
Friday, August 16, 2019 - 19:15 By Eric Olanowski
TALLINN, Estonia (August 16) --- Japan jabbed the competition on Thursday night by winning three junior world titles, then threw the knock out punch on Friday night -- closing out the women's wrestling portion of the Junior World Championships with five additional gold medals. In total, Japan went eight-for-eight in gold-medal bouts and stockpiled medals in all ten weights.
Haruna OKUNO (JPN) kicked off the day for the Japanese women by winning her fifth overall world gold medal.
Okuno said she keeps all of her world title belts at her parent's house. Well, their house gained an additional world championship belt after their daughter claimed her fifth world gold in as many tries. The reigning two-time senior-level world champion added her first junior world title to her long list of accomplishments after expelling Anudari NANDINTSETSEG (MGL), 7-2 in the 53kg gold-medal bout. 
By watching Okuno's four matches, where she outscored her opponents 35-2, you would've never guessed that she was dealing with extreme neck pain on her right side throughout the entire competition. After her finals match, she talked about having to work through her counter-offensive attacks because of her pain, saying "Now I feel neck pain, so I didn't try to attack. In this tournament, the counterattack was very nice for me." 
In her finals match, the always stoic Okuno shot a low-level attack and picked up the early two-point lead. Her counter offense came into play later in the period when she stopped a Nandintsetseg attack and used a fluid arm-drag to a head outside single leg to pick up four points – improving her lead to 6-0. She surrendered an inactivity point and a stepout in the closing period but was awarded a brutality point after her Mongolian opponent was warned several times for hands-to-the-face. Okuno closed out her run to her first junior world title with a 7-2 victory. 
When asked if there's a difference between winning a junior world title and a senior world title, Okuno said, "There isn't a difference between junior and senior because it means the same. It's a world championship.  I'm always feeling very happy to (wrestle) against the world's best wrestlers."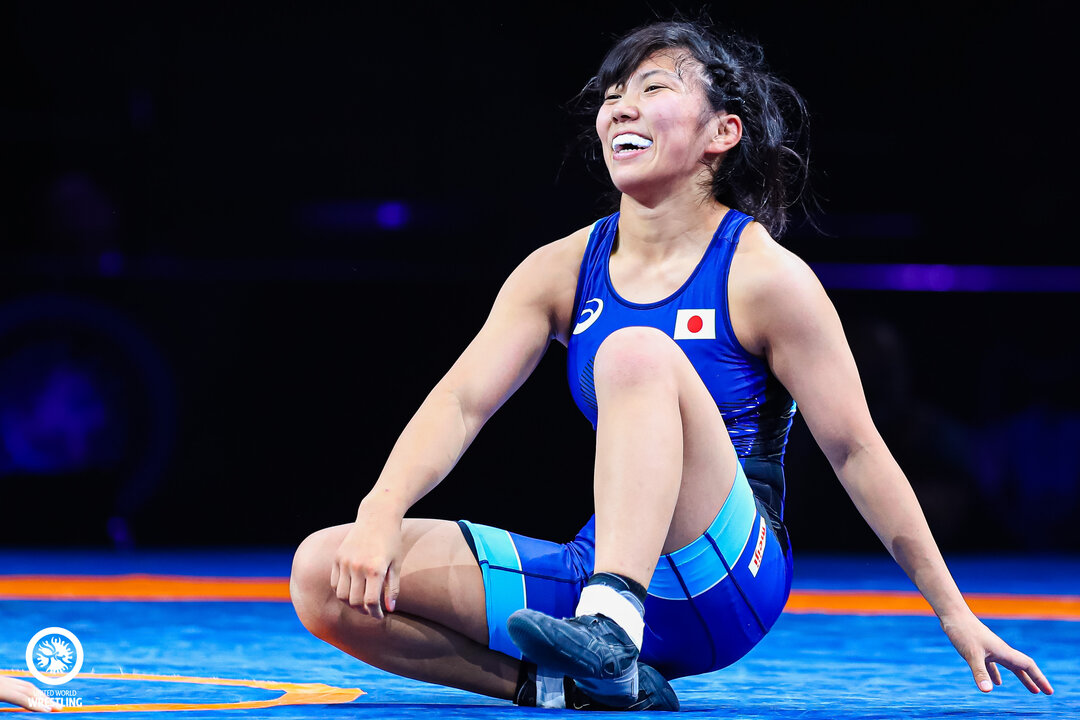 Akie HANAI (JPN) picked up a 9-0 win over Alina AKOBIIA (UKR) in the 57kg finals. (Photo: Kadir Caliskan)
Akie HANAI (JPN) was Japan's second wrestler who won a gold medal on Friday night. 
Hanai, last year's U23 world runner-up, scored four points from two open double legs in the first period and tacked on a four-point double leg and a failed challenge point in the second period to slide past Alina AKOBIIA (UKR), 9-0 for her first career world title.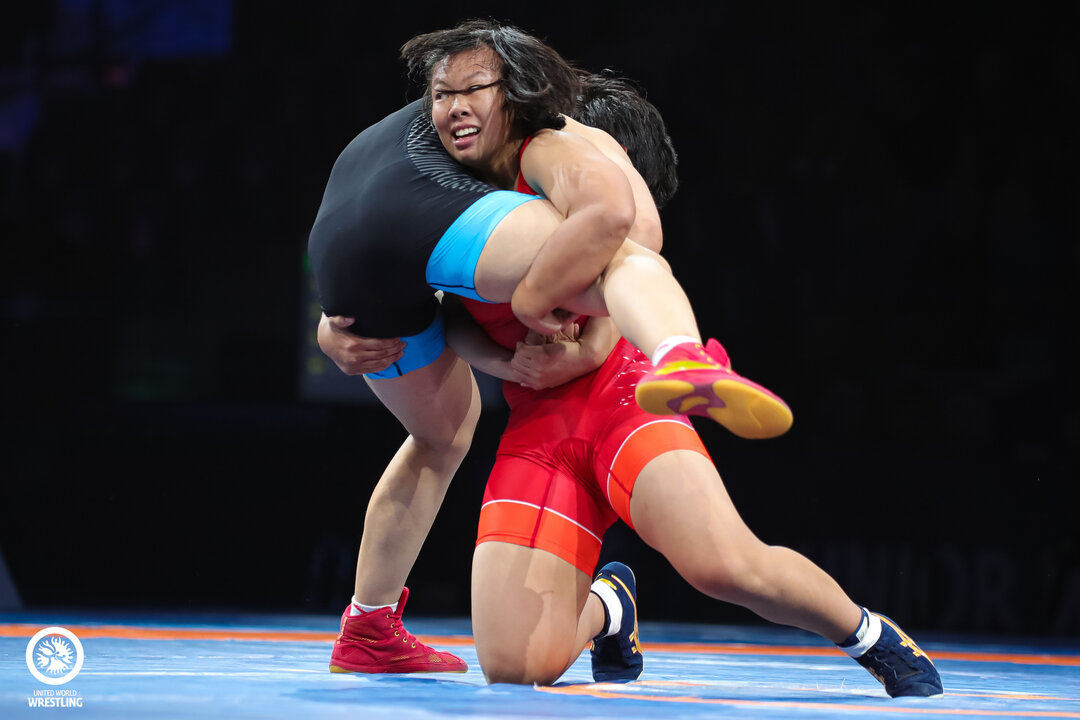 Yuzuka INAGAKI (JPN) scored an 8-2 win over China's WU Yaru in the 62kg finals. (Photo: Kadir Caliskan)
The third Japanese Friday night gold-medal winner was Yuzuka INAGAKI (JPN). 
Inagaki came to Estonia with an unblemished resume, and that's how she's leaving. She won her second career world title and first since winning the 2017 cadet world title in Athens, Greece, with an 8-2 win over China's WU Yaru. In the gold-medal bout, Inagaki struck first with a takedown, but gave up a judo-esk whip over and went into the second period trailing 2-2 on criteria. In the second period, the lack of defensive adjustment from Wu allowed Inagaki to pick up back-to-back sweep singles to the left leg of her Chinese opponent. When Wu finally adjusted, Inagaki switched up her tactics and shot a double -- picking up her third takedown of the match to win her second age-group world title, 8-2.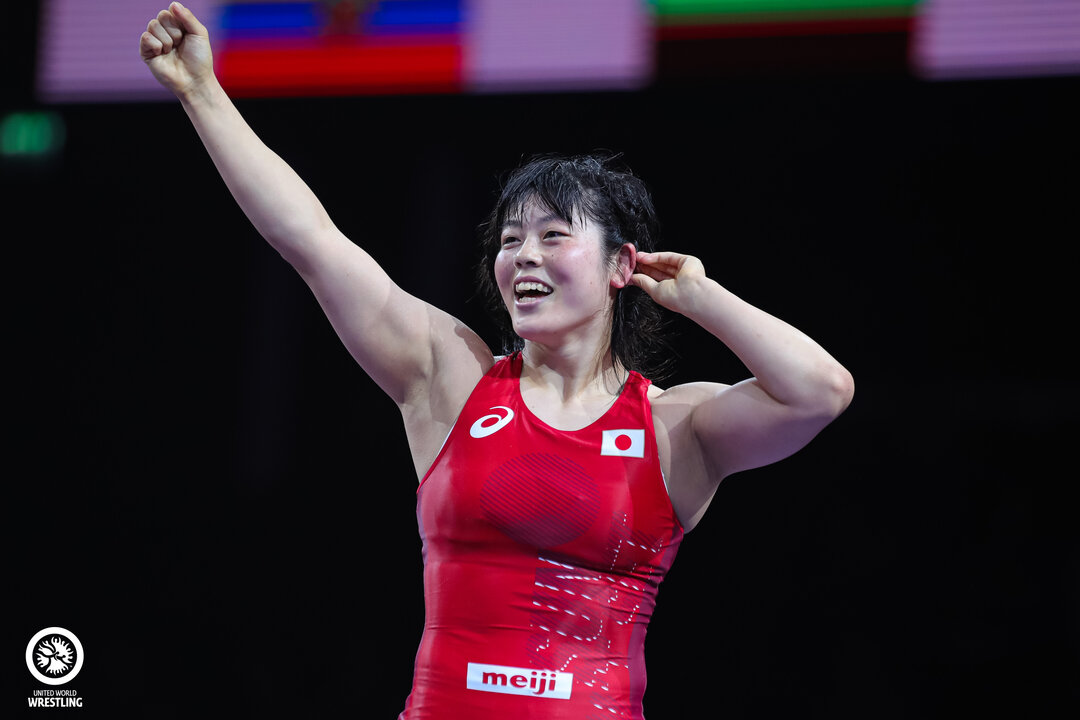 Miwa MORIKAWA (JPN) celebrates after winning her first world title. She defeated 2018 cadet world champion Macey KILTY (USA), 2-1. (Photo: Kadir Caliskan)
The fourth wrestler to stand atop of the podium while listening to the Japanese national anthem was Miwa MORIKAWA (JPN).
Morikawa, who was wrestling in her third world-title bout, won her first world gold with a hard-fought 2-1 win over 2018 cadet world champion Macey KILTY (USA). The match deciding points came in the second period when Morikawa shot five seconds into the period and drove Kilty out of bounds for the stepout point. Shortly after, the Japanese wrestler snuck behind Kilty, but the American tried to get away, but in the process of doing so, fled the hold and was dinged one point – giving Morikawa the outright lead, 2-1, and ultimately the 65kg gold medal.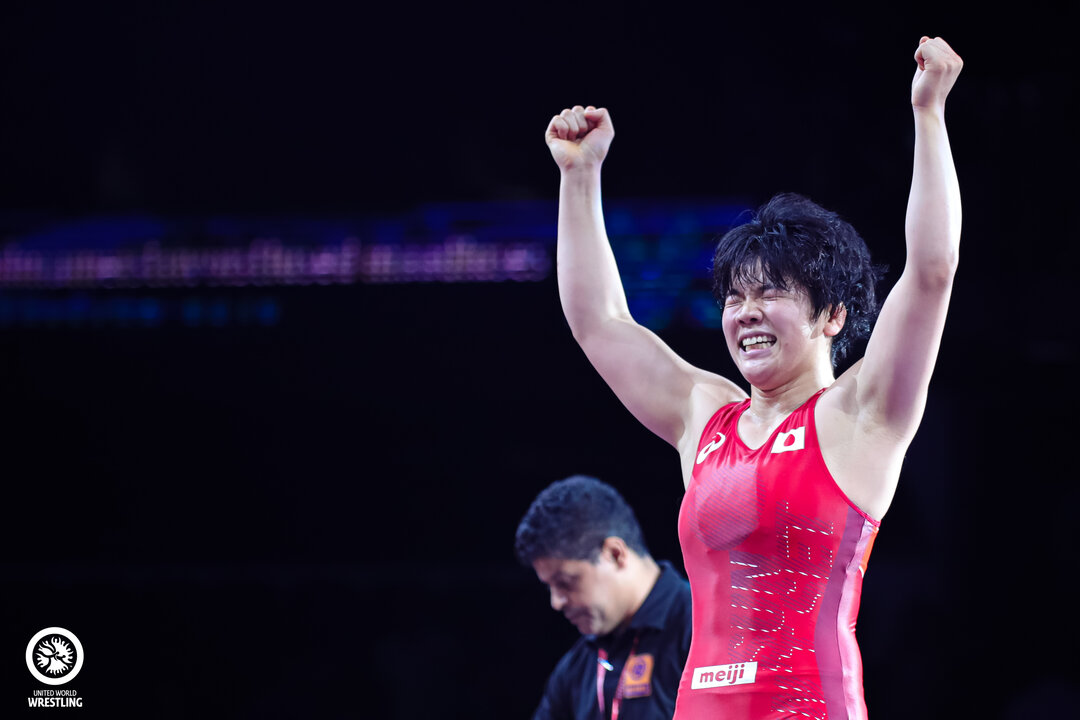 Yuka KAGAMI (JPN) won Japan's eighth gold medal of the Junior World Championships with a 10-6 win over Evgeniia ZAKHARCHENKO (RUS). (Photo: Kadir Caliskan)
Yuka KAGAMI (JPN) closed out the day with Japan's fifth gold medal.
The two-time cadet world champion came out on top of the high-entertaining 72kg finals against Evgeniia ZAKHARCHENKO (RUS) with a 10-6 victory. The pair traded blows the entire match, but it was Kagami who trailed 6-4 with 30 seconds left in the second period. The Japanese wrestler jolted to a takedown, then quickly jumped into a pair of leg laces and scored the four-point victory over last year's junior world runner-up.
Japan closed out the Junior World Championships with the team title. They had 230 points, which was double the amount of points that second-place Russia had. Ukraine rounded out the top-three with 91 points. 
The last full day of wrestling kicks off tomorrow morning at 10:30 (local time) and can be followed live on www.unitedworldwrestling.org. 
RESULTS 
Final Women's Wrestling Team Scores
GOLD – Japan (230 points)
SILVER – Russia  (115 points)
BRONZE – Ukraine (91 points)
Fourth –  Poland (86 points)
Fifth – China (85 points)
53kg
GOLD - Haruna OKUNO (JPN) df. Anudari NANDINTSETSEG (MGL), 7-2 
BRONZE - Mariia TIUMEREKOVA (RUS) df. Shokhida AKHMEDOVA (UZB), 7-2 
BRONZE - Meiduolaji MEIDUOLAJI (CHN) df. Assylzat SAGYMBAY (KAZ), via fall
57kg
GOLD - Akie HANAI (JPN) df. Alina AKOBIIA (UKR), 9-0
BRONZE - Nuraida ANARKULOVA (KGZ) df. Bharti BAGHEL (IND), 3-3 
BRONZE - Magdalena Urszula GLODEK (POL) df. Youmei WU (CHN), 7-6 
62kg
GOLD - Yuzuka INAGAKI (JPN) df. Yaru WU (CHN), 8-2 
BRONZE - Magdalena Weronika KISIELINSKA (POL) df. Mariia LACHUGINA (RUS), 7-6 
BRONZE - Ana Paula GODINEZ GONZALEZ (CAN) df. Irina RINGACI (MDA), 13-2 
65kg
GOLD – Miwa MORIKAWA (JPN) df. Macey KILTY (USA), 2-1 
BRONZE - Wiktoria CHOLUJ (POL) df. Hanna SADCHANKA (BLR), 2-0 
BRONZE - Yue ZHANG (CHN) df. Oksana CHUDYK (UKR), 9-4 
72kg
GOLD - Yuka KAGAMI (JPN) df. Evgeniia ZAKHARCHENKO (RUS), 10-6 
BRONZE - Shuiyan CHENG (CHN) df. Svetlana OKNAZAROVA (UZB), 3-1 
BRONZE - Anastasiya ALPYEYEVA (UKR) df. Alyvia Nicole FISKE (USA), 3-3