Japan Goes 15-0 on Day 4, Inserts All Five into Friday Night Finals
Thursday, August 15, 2019 - 19:55 By Eric Olanowski
TALLINN, Estonia (August 15) –The Japanese women's wrestling team went a perfect 15-0 on Thursday and inserted all five wrestlers into Friday night's final – bringing their grand total to eight wrestlers who punched their ticket to the junior world finals. In the night session on Day 4, Japan picked up three falls and a pair of shutout victories.
Reigning two-time senior-level world champion Haruna OKUNO (JPN) made her junior world debut on Thursday and outscored her three opponents 28-0. In the semifinals, Okuno ousted five-time age-group world medalist Mariia TIUMEREKOVA (RUS), 6-0, and moved into the 53kg finals where she'll wrestle Anudari NANDINTSETSEG (MGL) to try to add a junior world title to her resume that's filled with world golds at the cadet, U23 and senior levels. Her Mongolian finals opponent, who was a 2019 junior Asian runner-up, scored a 12-9 come-from-behind win over China's MEIDUOLAJI Meiduolaji (CHN) in her semifinal bout. 
Akie HANAI (JPN) was the second Japanese wrestler who locked up her finals spot. Hanai, who was leading 8-0, stuck Bharti BAGHEL (IND) and will wrestle Alina AKOBIIA (UKR) in the 57kg finals. The Ukrainian wrestler easily downed Magdalena GLODEK (POL), 12-0, and will make her first appearance in a world finals match.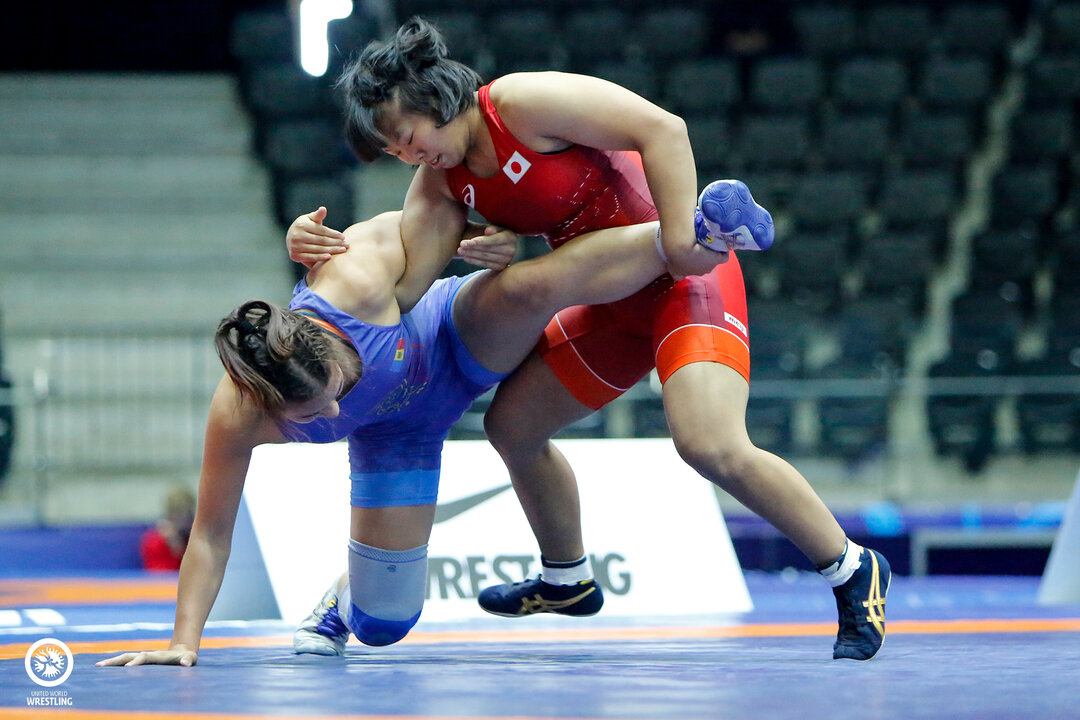 Yuzuka INAGAKI (JPN) was one of five Japanese wrestlers who locked up their spot in Friday's gold-medal match. (Photo: Gabor Martin)
The third Japanese wrestler who was successful in reaching the Friday night finals was Yuzuka INAGAKI (JPN). The 2017 cadet world champion stuck Irina RINGACI (MDA) in the semifinals and set up a 62kg finals match against WU Yaru (CHN). The Chinese wrestler, who arguably had the most spectacular double leg of the tournament, crushed Mariia LACHUGINA (RUS), 10-0. 
Miwa MORIKAWA (JPN) was the fourth wrestler from the island nation to punch her ticket to the finals. She reached the world finals for the third time in her career with a 10-0 win over ZHANG Yue (CHN). To improve on her pair of runner-up finishes, she'll have to stop 2018 cadet world champion Macey KILTY (USA), who pinned Hanna SADCHANKA (BLR) in the second period after commanding the 5-0 lead. They'll wrestle in the 65kg finals. 
Yuka KAGAMI (JPN) closed out the perfect day for Japan as she moved into the junior world finals in style – sticking Alyvia Nicole FISKE (USA) in a cradle. Kagami, the two-time cadet world champion, will square off with Evgeniia ZAKHARCHENKO (RUS) in the 72kg finals. The Russian wrestler, who was last year's junior world runner-up, handled CHENG Shuiyan (CHN), 10-0, to reach her second consecutive junior gold-medal bout. 
The Friday night finals begin at 18:00 (local time) and can be followed live on www.unitedworldwrestling.org.
53kg
GOLD - Haruna OKUNO (JPN) vs. Anudari NANDINTSETSEG (MGL)
SEMIFINAL - Haruna OKUNO (JPN) df.  Mariia TIUMEREKOVA (RUS), 6-0 
SEMIFINAL - Anudari NANDINTSETSEG (MGL) df. Meiduolaji MEIDUOLAJI (CHN), 12-9 
57kg
GOLD - Akie HANAI (JPN) vs. - Alina AKOBIIA (UKR)
SEMIFINAL - Akie HANAI (JPN)  df. Bharti BAGHEL (IND), via fall 
SEMIFINAL - Alina AKOBIIA (UKR) df. Magdalena GLODEK (POL), 12-0 
62kg
GOLD - Yaru WU (CHN) vs. Yuzuka INAGAKI (JPN)
SEMIFINAL - Yaru WU (CHN) df. Mariia LACHUGINA (RUS), 10-0 
SEMIFINAL - Yuzuka INAGAKI (JPN) df. Irina RINGACI (MDA), via fall 
65kg
GOLD – Macey Ellen KILTY (USA) vs. Miwa MORIKAWA (JPN)
SEMIFINAL - Macey Ellen KILTY (USA) df. Hanna SADCHANKA (BLR), via fall 
SEMIFINAL - Miwa MORIKAWA (JPN) df. Yue ZHANG (CHN), 10-0 
72kg
GOLD - Evgeniia ZAKHARCHENKO (RUS) vs. Yuka KAGAMI (JPN)
SEMIFINAL - Evgeniia ZAKHARCHENKO (RUS)  df. Shuiyan CHENG (CHN), 10-0 
SEMIFINAL - Yuka KAGAMI (JPN) df. Alyvia Nicole FISKE (USA), via fall