Henri Deglane Entries (January 20-23)
Wednesday, January 12, 2022 - 17:41 By Eric Olanowski
NICE, Frace (January 11) -- In what will be the beginning of yet another calendar year for wrestling, Grand Prix de France Henri Deglane 2022 will kick off things as international competitions resume. The tournament will be held in Nice, France from February 20-23 under strict COVID-19 preventive measures. 
The tournament is headlined by stars including Olympic silver medalist Blessing OBORUDUDU (NGR) at 68kg in women's wrestling and her teammate at 57kg Odunayo ADEKUOROYE (NGR), a three-time world medalist.
A host of young stars are also entered headlined by the USA squad which includes former age-group world championships John DIAKOMIHALIS (USA), Mark HALL (USA) and Zahid VALENCIA (USA).  
U23 World Championships silver medalist Kendra DACHER (FRA) will be carrying the local hopes as she is entered at 72kg. Junior world silver medalist Rakhim MAGAMADOV (FRA) at 86kg will lead the freestyle team for France.
U23 world champion Anhelina LYSAK (POL) is also entered at 57kg and will be joined by her teammate and Olympian Roksana ZASINA (POL) in what looks like a full squad from Poland.
Horst LEHR (GER), a senior world bronze medalist at 57kg, will be the favorite to claim the title as he warms up to a big year ahead.
Junior world champion Emma MALMGREN (SWE) is also entered for the tournament which begins with all 10 weight classes of women on day one followed by six weight classes of freestyle on Day Two, four freestyle and two Greco-Roman weights on Day Three and six Greco-Roman weights on the fourth and final day.
Freestyle
57kg
Guesseppe Ricardo REA VILLARROEL (ECU)
Levan METREVELI VARTANOV (ESP)
Horst Justin Junior LEHR (GER)
Niklas STECHELE (GER)
Petru CRACIUN (MDA)
Gary GIORDMAINA (MLT)
Darian Toi CRUZ (PUR)
Thomas EPP (SUI)
61kg 
Zelimkhan ABAKAROV (ALB)
Khamzat Timourovitch ARSAMERZOUEV (FRA)
Adam Visrailovitch BIBOULATOV (FRA)
Viktor Viktorowitsch LYZEN (GER)
Nico MEGERLE (GER)
Igor CHICHIOI (MDA)
Nils LEUTERT (SUI)
Daniel Nkrumah DESHAZER (USA)
65kg 
Islam DUDAEV (ALB)
Carlos ALVAREZ IGLESIAS (ESP)
Carlos GUAL REBASSA (ESP)
Quentin Jean-René STICKER (FRA)
Arman Norik ELOYAN (FRA)
Niklas Dietmar DORN (GER)
Alexander SEMISOROW (GER)
Leon GERSTENBERGER (GER)
Moritz Jonathan LANGER (GER)
Maxim SACULTAN (MDA)
Eduard GRIGOREV (POL)
Krzysztof BIENKOWSKI (POL)
Nino LEUTERT (SUI)
Dominik LARITZ (SUI)
John Michael DIAKOMIHALIS (USA)
Antonio Perry TOLBERT (USA)
Patricio LUGO III (USA)
70kg
Benedikt HUBER (AUT)
Pablo DIEZ PARDO (ESP)
Shamil USTAEV (GER)
NRaul ZARBALIEV (ISR)
Patryk Krzysztof OLENCZYN (POL)
Marc DIETSCHE (SUI)
Kevin Gerry MAKOTA STROEM (SWE)
Austin Craig HEADLEE (USA)
74kg
Aimar ANDRUSE (EST)
Magamed DELIEV (FRA)
Osman Kubilay CAKICI (GER)
Richard SCHROEDER (GER)
Tino RETTINGER (GER)
Lucas Marco KAHNT (GER)
Kevin SPIEGEL (GER)
Mitchell Louis FINESILVER (ISR)
Nathaniel BUTTIGIEG DUGO (MLT)
Nico ZARB (MLT)
Szymon WOJTKOWSKI (POL)
Kamil RYBICKI (POL)
Chandler Shane MARSTELLER (USA)
79kg
Francisco de Deus KADIMA (ANG)
Pablo GARCIA GARCIA (ESP)
Erik REINBOK (EST)
Saifedine ALEKMA (FRA)
Beat Konstantin SCHAIBLE (GER)
Patryk CIURZYNSKI (POL)
David Vincent MC FADDEN (USA)
Joseph Lawrence Michael LAVALLEE (USA)
86kg
Damian IGLESIAS VILELA (ESP)
Akhmed AIBUEV (FRA)
Rakhim MAGAMADOV (FRA)
Ahmed Ruslanovic DUDAROV (GER)
Lars SCHAEFLE (GER)
Joshua Philipp David MORODION (GER)
Andrian GROSUL (MDA)
Denis BALAUR (MDA)
Filip ROGUT (POL)
Sebastian JEZIERZANSKI (POL)
Krzysztof Grzegorz SADOWIK (POL)
Owen Douglas WEBSTER (USA)
Mark John HALL II (USA)
Zahid VALENCIA (USA)

92kg
Benjamin GREIL (AUT)
Adlan Bakirsoultanovitch VISKHANOV (FRA)
Johannes MAYER (GER)
Radoslaw MARCINKIEWICZ (POL)
Bakhodur KODIROV (TJK)

97kg
Alejandro CANADA PANCORBO (ESP)
Erik Sven THIELE (GER)
Wladimir REMEL (GER)
Michal Jan BIELAWSKI (POL)
Radoslaw BARAN (POL)
Zbigniew Mateusz BARANOWSKI (POL)
125kg
Gennadij CUDINOVIC (GER)
Robert BARAN (POL)
Kamil Tomasz KOSCIOLEK (POL)
Hayden Nicholas ZILLMER (USA)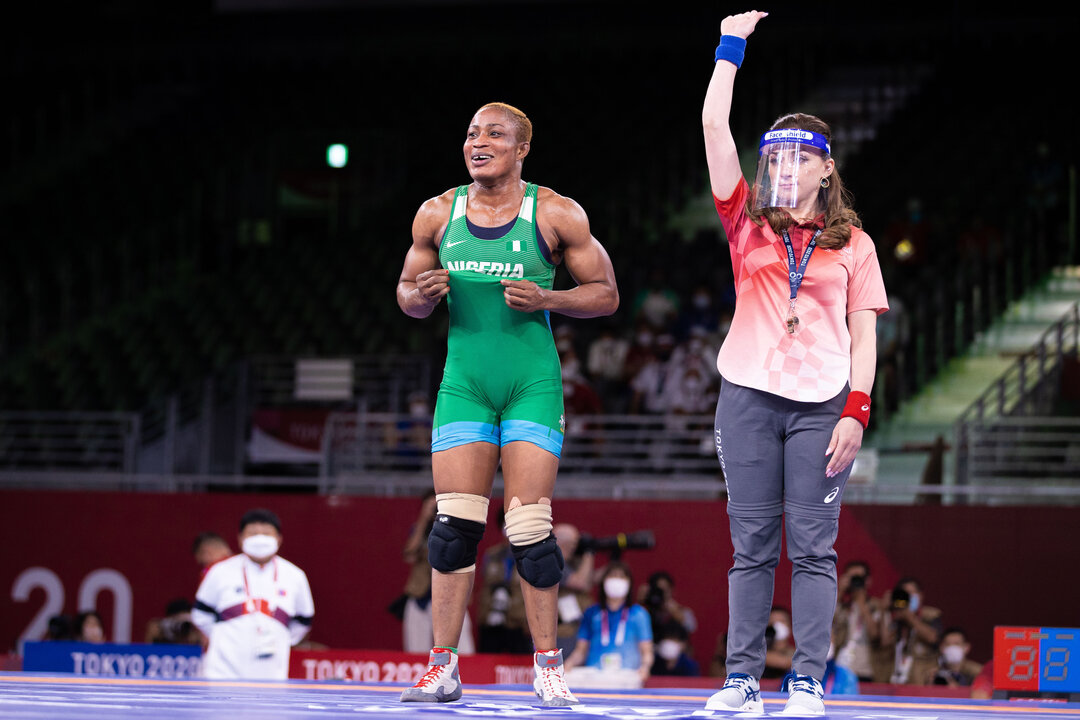 Blessing OBORUDUDU (NGR), the first woman from Africa to reach the Olympic finals, headlines the '22 Henri Deglane entries. (Photo: Kadir Caliskan)
Women's Wrestling

50kg
Ana Maria TORRES RUBIO (ESP)
Emma Solange Irène LUTTENAUER (FRA)
Justine Fanny VIGOUROUX (FRA)
Julie Martine SABATIE (FRA)
Lisa ERSEL (GER)
Szimonetta Timea SZEKER (HUN)
Anna LUKASIAK (POL)
Agata Marta WALERZAK (POL)
Stefania Claudia PRICEPUTU (ROU)
53kg
Maria BLANCO MARTIN (ESP)
Aintzane GORRIA GONI (ESP)
Chadia AYACHI (FRA)
Tatiana DEBIEN (FRA)
Annika WENDLE (GER)
Angelina Inez PURSCHKE (GER)
Amory Olivia ANDRICH (GER)
Mercedesz DENES (HUN)
Roksana Marta ZASINA (POL)
Katarzyna KRAWCZYK (POL)
Nova Ilona BERGMAN (SWE)
Emma Jonna Denise MALMGREN (SWE)

57kg
Maria Victoria BAEZ DILONE (ESP)
Graciela SANCHEZ DIAZ (ESP)
Marina RUEDA FLORES (ESP)
Amel REBIHA (FRA)
Elena Heike BRUGGER (GER)
Anne Beatrice NUERNBERGER (GER)
Josefine Maria PURSCHKE (GER)
Andrea GRASRUCK (GER)
Luna ROTHENBERGER (GER)
Erika BOGNAR (HUN)
Tamara DOLLAK (HUN)
Odunayo Folasade ADEKUOROYE (NGR)
Othelie Annette HOEIE (NOR)
Patrycja GIL (POL)
Alicja CZYZOWICZ (POL)
Anhelina LYSAK (POL)
Magdalena Urszula GLODEK (POL)
Jowita Maria WRZESIEN (POL)
62kg
Lydia PEREZ TOURINO (ESP)
Ameline DOUARRE (FRA)
Luisa Helga Gerda NIEMESCH (GER)
Chiara Julie HIRT (GER)
Luisa SCHEEL (GER)
Nataliia SHAFIR MAZUR (ISR)
Esther Omolayo KOLAWOLE (NGR)
Viktoria Miriam OEVERBY (NOR)
Natalia Gizela KUBATY (POL)
Aleksandra WOLCZYNSKA (POL)
Olivia Louise HENNINGSSON (SWE)
Sara Johanna LINDBORG (SWE)
65k​g​​​​​
Nerea PAMPIN BLANCO (ESP)
Eyleen SEWINA (GER)
Gerda BARTH (GER)
Lilly Mariella PFAU (GER)
Noémi SZABADOS (HUN)
68kg
Marta OJEDA NAVARRO (ESP)
Lorena LERA CELDA (ESP)
Pauline Denise LECARPENTIER (FRA)
Debora LAWNITZAK (GER)
Sophia SCHAEFLE (GER)
Viktoria FELHO (HUN)
Blessing OBORUDUDU (NGR)
Wiktoria CHOLUJ (POL)
Natalia Iwona STRZALKA (POL)
Adina Ionela IRIMIA (ROU)
72kg
Kendra Augustine Jocelyne DACHER (FRA)
Lilly SCHNEIDER (GER)
Jennifer ROESLER (GER)
Tuende Emese ELEKES (HUN)
Maria larisa NITU (ROU)
76kg
Francy RAEDELT (GER)
Laura Celine KUEHN (GER)
Bernadett NAGY (HUN)
Marion Brillantes BYE (NOR)
Patrycja SPERKA (POL)