Georgia and Hungary Win Two Golds; Russia Claims Team Title
Wednesday, June 5, 2019 - 18:50 By Eric Olanowski
PONTEVEDRA, Spain (June 5) –  The Russian Federation, who had a solo champion and medaled at eight of ten weight classes, won the Greco-Roman team title at the Junior European Championships with 159 points; but it was Georgia (151 points) and Hungary (124 points) who finished in second and third place respectively that stole the show on Day 3 – each claiming a pair of Greco-Roman gold medals. 
Chkhikvadze and Shotadze Boost Georgia to Second-Place Finish 
A very familiar scene filled Pabellón Municipal De Los Deportes De Pontevedra during the Greco-Roman gold-medal finals – the Georgian faithful on their feet, waving flags and cheering for their wrestlers to come out on top of their gold-medal bout. 
Their support pushed three Georgian's to gold medals and helped their nation to a second-place finish, eight points behind eventual champions Russia.  
On Tuesday night, it was 55kg champion Pridon ABULADZE who brought the crowd to their feet with 7-6 come-from-behind win, and on Wednesday, it was Diego CHKHIKVADZE and Giorgi SHOTADZE who carried the Georgian flag around the mat after winning the 60kg and 67kg titles, respectively. 
Chkhikvadze controlled the 60kg finals against Asgar ALIZADA (AZE) by one point after the first period, then tossed the Azeri wrestler for four points in the second period and closed out the finals with a five-point victory. Chkhikvadze's run to the 60kg title is a major improvement from his 2018 cadet European performance when he finished in 14th place. 
Georgia's second champion of the day and third overall gold-medal winner was Giorgi Shotadze, who had an easier time winning a gold medal than his fellow Georgian countrymen. Shotadze handled Hayk MELIKYAN (ARM), 9-0 in the 67kg finals. The Georgian carried the 6-0 lead into the second period, then scored a step out and a defensive takedown, and closed out the match, 9-0.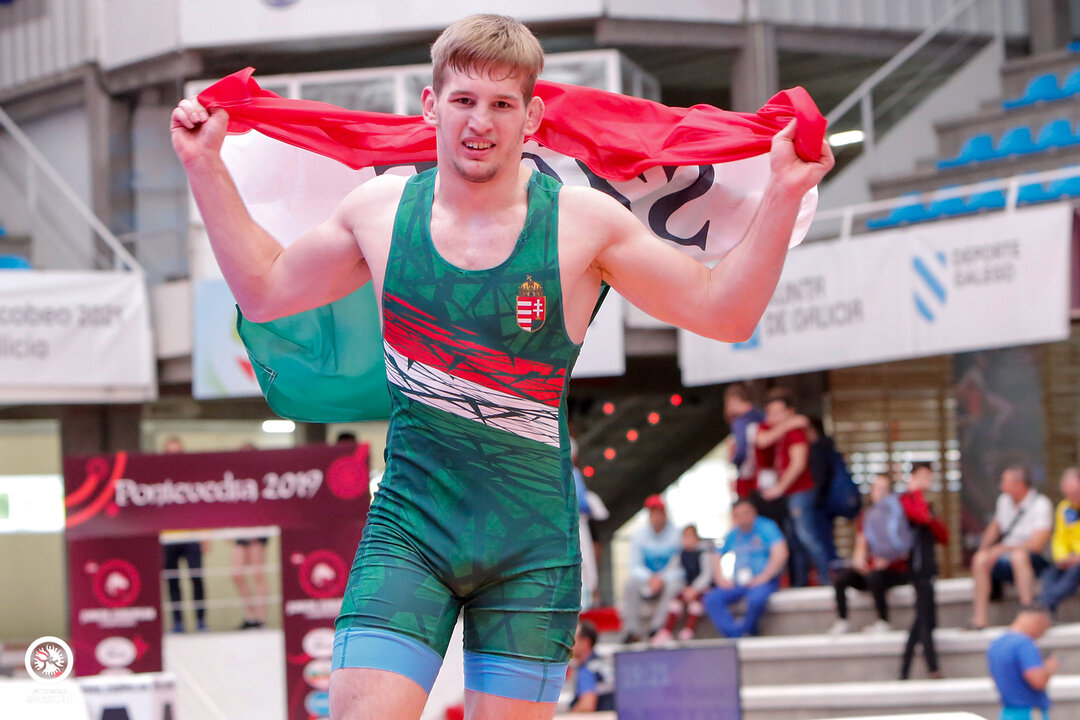 Istvan TAKACS (HUN), the 82kg champion, was one of three Hungarian gold-medal winners. (Photo: Gabor Martin)
Takacs and Szoke Help Hungary to Third Place Finish Gives
Istvan TAKACS and Alex SZOKE joined fellow Hungarian Tamas LEVAI (77kg champion) in the winner's circle after claiming the 82kg and 97kg gold medals, respectively. Their three gold medals helped Hungary move ahead of Turkey for the third-place spot on the team podium with 124 points. 
It was Takacs' first appearance in the European finals and he made the most of it. The Hungarian, whose highest previous finish came in 2017 when he finished in third place, caught Vitalii ANDRIIOVYCH (UKR) on his heels and scored the match's first takedown. Takacs quickly transitioned into a pair of guts and had the 6-0 lead after the first 60 seconds. Takacs finished the match with an underhook throw by and gave Hungary 25 additional team points with his 8-0 destruction Andriiovych. 
Hungary's second champion of the day was Alex SZOKE (HUN). Szoke was tied with his 82kg finals opponent Patrick NEUMAIER (GER) heading into the final minute after the pair traded inactivity points; but the Hungarian struck at the one-minute mark, scoring the match-deciding takedown to win the bout, 3-1.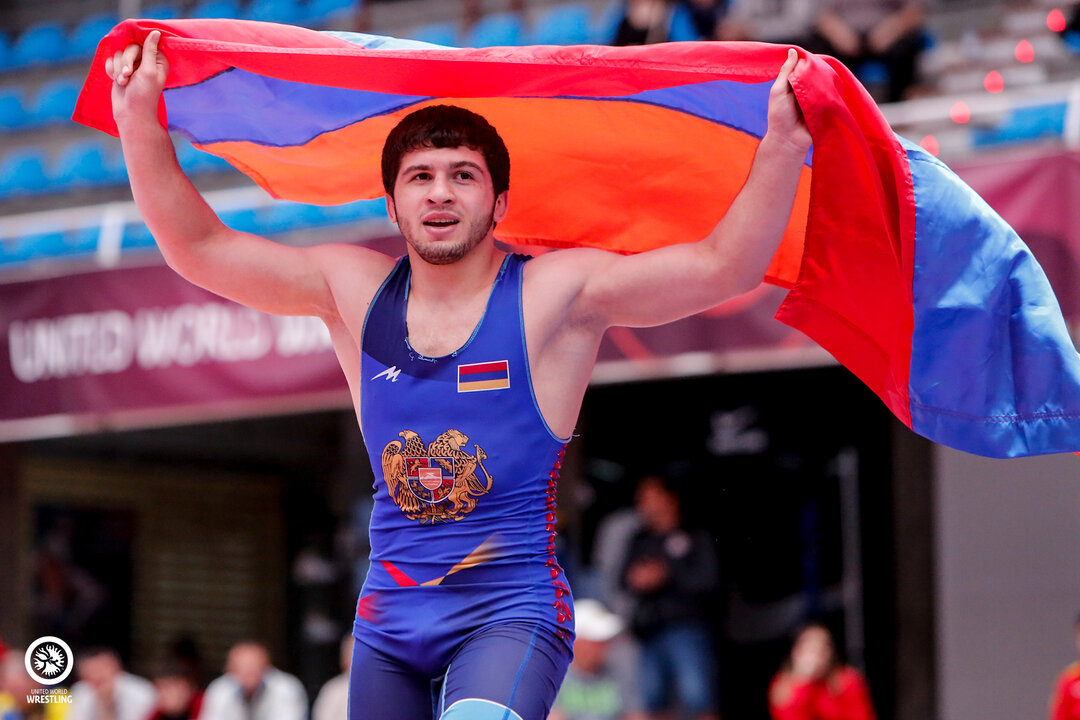 Malkhas AMOYAN (ARM) ended the 72kg finals match early after scoring eight quick points against Mihai PETIC (MDA). (Photo: Gabor Martin) 
World Champion Amoyan Annihilates Petic in 72kg Finals 
Armenia's reigning junior world champion Malkhas AMOYAN emptied the tank on Tuesday night and used up the entire six minutes just to make the finals. He trailed by three points with 15 second left but scored a takedown and stepout and stole the 72kg finals spot from 2016 cadet world silver medalist Sergei STEPANOV (RUS). 
The story was completely different for Amoyan on Wednesday night. There was still 30 seconds left in the first period when the Armenian picked up the technical superiority victory. Amoyan annihilated Mihai PETIC (MDA), 8-0 in the opening period with a pair of takedowns and a pair of lifts and won his first junior European title after finishing in third place the past two years. Although this was his first junior-level European title, Amoyan did win the 2016 69kg cadet European title in Stockholm, Sweden. 
Women's wrestling takes over on Thursday. Action begins at 11:00 (local time) and can be followed on www.unitedworldwrestling.org. 
Final Team Scores 
GOLD - Russia (159 points)
SILVER - Georgia (151 points)
BRONZE - Hungary (124 points)
Fourth - Turkey (95 points)
Fifth - Armenia (93 points)
 
60kg 
GOLD - Diego CHKHIKVADZE (GEO) df. Asgar ALIZADA (AZE), 8-3 
BRONZE - Anar MANSUROV (RUS) df. Ivo Krasimirov ILIEV (BUL), 6-4
BRONZE - Sahak HOVHANNISYAN (ARM) df. Myroslav SOLOVIAN (UKR), 9-0
67kg
GOLD - Giorgi SHOTADZE (GEO) df. Hayk MELIKYAN (ARM), 9-0 
BRONZE - Eldar HASANAU (BLR) df. Haavard JOERGENSEN (NOR), 3-1 
BRONZE - Aker AL OBAIDI (AUT) df. Abdulvakhab Riachitovitch ASAINOV (RUS), 7-2 

77kg
GOLD - Malkhas AMOYAN (ARM) vs. Mihai PETIC (MDA)
BRONZE - Ismail GUN (TUR) vs. Sergei STEPANOV (RUS) 
BRONZE - Pavel PUKLAVEC (CRO) df. Ihor BYCHKOV (UKR), 7-3 
82kg
GOLD - Istvan TAKACS (HUN) df. Vitalii ANDRIIOVYCH (UKR), 8-0 
BRONZE - Karlo KODRIC (CRO) vs. Lucas Alexandros LAZOGIANIS (GER) 
BRONZE - Stanislav PSEUNOV (RUS) df. Ilias PAGKALIDIS (GRE), 3-0 
97kg
GOLD - Alex SZOKE (HUN) vs. Patrick NEUMAIER (GER)
BRONZE - Beytullah KAYISDAG (TUR) vs. Gerard Cyprian KURNICZAK (POL) 
BRONZE - Uladzislau PUSTASHYLAU (BLR) df. Koka GARIBADZE (GEO), 7-1