Cumba Mbali, Kherbache, John Win African Gold, Ascend into Top-Ten of World Rankings
Sunday, February 9, 2020 - 18:19 By Eric Olanowski
ALGER, Algeria (February 9) --- Mbunde CUMBA MBALI (GBS), Abdelhak KHERBACHE (ALG) and Ogbonna JOHN (NGR) ascended to the top-ten of the freestyle world rankings after they closed out the African Championships with Olympic-weight gold medals.
Cumba Mbali halted Adama DIATTA'S (SEN) quest to win his 10th African championship title, then went on to defeat Amas DANIEL (NGR) to defend his 2019 African crown. He jumped from 29th to 9th in the rankings with his 18-point gold-medal victory in Alger.
Cumba Mbali downed Diatta 3-2, in the semifinals, then avenged his All-African Games finals loss to Amas DANIEL (NGR) with the two-point victory in the gold-medal match. He scored the 4-2 come-from-behind win over Daniel after trailing 2-0 for the majority of the first period. A late takedown in the first period, and then again in the second period awarded Cumba Mbali his second African title in as many tries.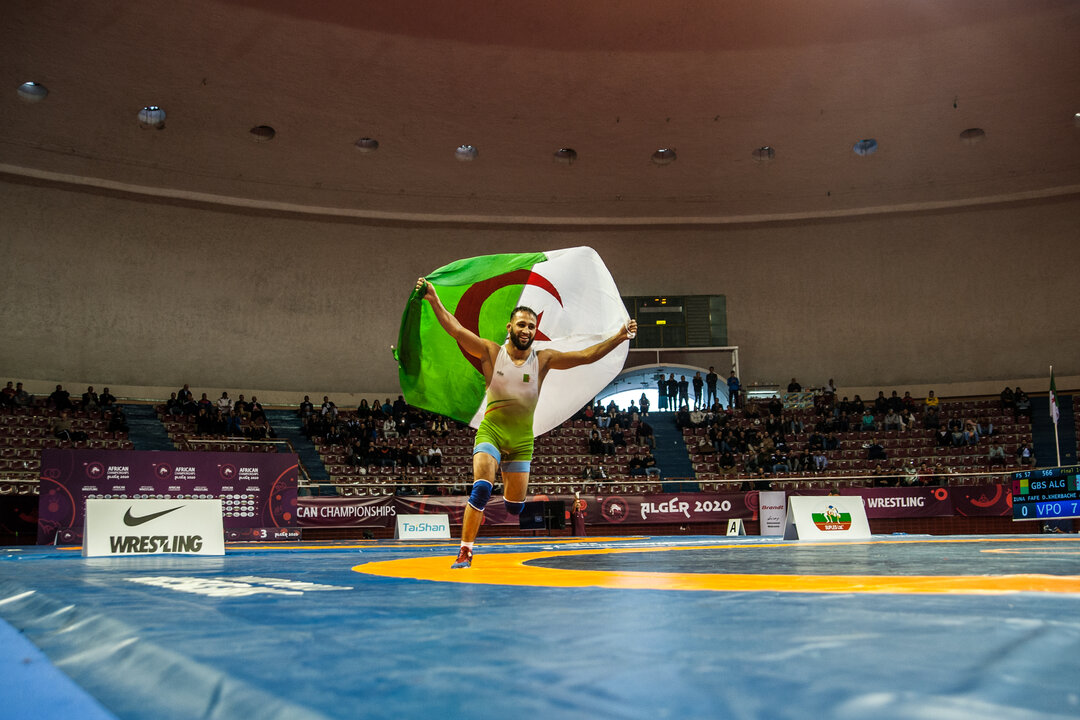 Abdelhak KHERBACHE (ALG) celebrates after winning the 57kg title. (Photo: Ben Mrad Bayrem) 
Abdelhak Kherbache blanked Diamantino IUNA FAFE (GBS), 7-0, in the 57kg finals and moved into the top-ten of the world rankings. Kherbache, the defending African champion, moved up eight spots from his previous No. 16 ranking that he earned from finishing in 11th at the 2019 World Championships. He now sits two points ahead of Givi DAVIDOVI (ITA) in the No. 8 spot.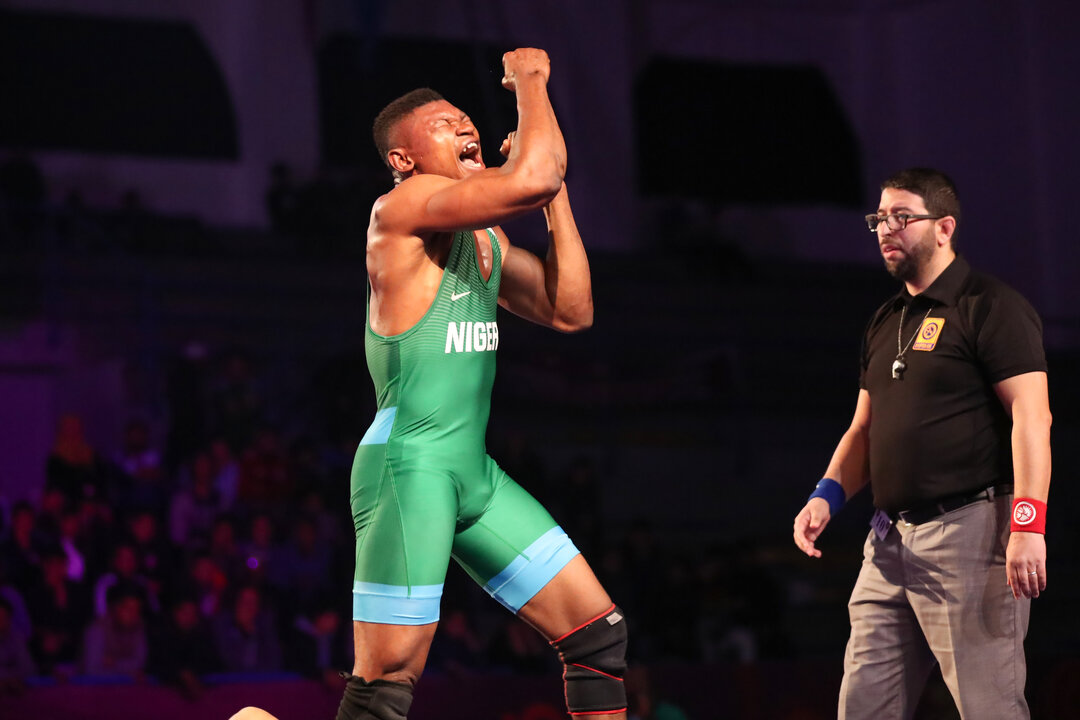 Ogbonna JOHN (NGR) is ranked seventh in the world at 74kg after winning his African gold on Sunday night. (Photo: Kadir Caliskan)
Ogbonna John handled Ishak BOUKHORS (ALG), 5-1, in the 74kg finals and climbed to seventh in the world rankings. John's gold on Sunday was worth 20 points, which sandwiched him between No. 6 Mao OKUI (JPN) and former-No.7 Kamil RYBICKI (POL). 
The Nigerian now has four African championship gold medals and one African Games title.
Algeria Wins Team Title on Home Soil
Algeria medaled in nine weight classes -- three of which were golds -- and claimed the freestyle team title on home soil. Abdelhak Kherbache, Abdelghani BENATALLAH (ALG) and Mohammed FARDJ (ALG) won gold medals and helped the host nation edge second-place Egypt by three points and third-place Tunisia by 33 points. 
Final Freestyle Team Standings
GOLD - Algeria (183 points)
SILVER - Egypt (180 points)
BRONZE - Tunisia (150 points)
Fourth - Nigeria (83 points)
Fifth -  South Africa (82 points)
Freestyle
57kg
GOLD - Abdelhak KHERBACHE (ALG) df. Diamantino IUNA FAFE (GBS), 7-0 
BRONZE - Gamal MOHAMED (EGY) df. Fathi NASIR (SUD), 6-1 
BRONZE - Jakobo Tanki TAU (RSA) df.  Soufiane KABIL (MAR), 18-9
61kg 
GOLD - Abdelghani BENATALLAH (ALG) 
SILVER - Yousef Mohamed Yousef EISSA (EGY) 
BRONZE - Chakir ANSARI (MAR) 
65kg 
GOLD - Mbunde CUMBA MBALI (GBS) df. Amas DANIEL (NGR), 4-2 
BRONZE - Fathi ISMAIL (EGY) df. Farouk JELASSI (TUN), via injury default
BRONZE - Amar LAISSAOUI (ALG) df. Adama DIATTA (SEN), 5-2 
70kg 
GOLD - Haithem DAKHLAOUI (TUN) 
SILVER - Ahmed Mohamed Elsayed ELMADBOH (EGY)
BRONZE - Ibrahim MOKHTARI (ALG) 
74kg
GOLD - Ogbonna Emmanuel JOHN (NGR) df. Ishak BOUKHORS (ALG), 5-1  
BRONZE - Maher GHANMI (TUN) df. Mohamed CHAKIR (MAR), 10-0 
BRONZE - Amr HUSSEN (EGY) df. Mathayo MAHABILA (KEN), 11-0 
79kg
GOLD - Ayoub BARRAJ (TUN) 
SILVER - Saifeldin ELKOUMY (EGY) 
BRONZE - Mohammed BOUDRAA (ALG) 
86kg
GOLD - Khaled ELMOATAMADAWI (EGY) df. Roman MANITRA RAHARISON (MAD), 11-0 
BRONZE - Fateh BENFERDJALLAH (ALG) df. Sabri MNASRIYA (TUN), 9-1 
BRONZE - Ekerekeme AGIOMOR (NGR) df. Bedopassa BUASSAT DJONDE (GBS), 2-1 
92kg 
GOLD - Mohammed FARDJ (ALG) 
SILVER - Imed KADDIDI (TUN)
BRONZE - Mohamed ABDALLA (EGY) 
97kg 
GOLD - Mohamed SAADAOUI (TUN) df. Martin ERASMUS (RSA), 9-4
BRONZE - Soso TAMARAU (NGR) df. Hosam MERGHANY (EGY), 9-2 
BRONZE - Francisco Nkunga NGONDA (ANG) df. Amoussou Nicolas CAKPO (BEN), 10-0
125kg 
GOLD - Diaaeldin ABDELMOTTALEB (EGY) df. Djahid BERRAHAL (ALG), 10-0 
BRONZE - Johannes Jacobus KRIEL (RSA) df. Thiacka FAYE (SEN), via injury default